Vinatech Group has just performed the production and installation of medium duty rack system for Packaging Company in Quang Ninh Province. The project has gained a high appreciation from the customer which help to increase the reputation of Vinatech in the warehouse rack manufacture industry in Vietnam.
1. Project Details
– Client: Packaging Company in Quang Ninh Province
– Areas: > 200m2
– Commodity: Medium Duty Rack, Orange – Blue Color
– Installation place: In the warehouse
– Address: Dong Mai Industrial Zone, Dong Mai Ward, Quang Yen Town, Quang Ninh Province.
Packaging company in Quang Ninh has selected a medium duty rack system for their warehouse with the areas more than 200m2. Each parameter and specification of rack has been negotiated and confirmed upon by the two parties before conducting the production and installation in principle of complying all Terms and Conditions of Contract.
With the professionalism and high reputation in the warehouse rack manufacture industry, Vinatech Group has received a high appreciation from customers. A representative of Packaging Company in Quang Ninh said: "Vinatech Group has consulted devotedly to help us selected a suitable type of warehouse rack. Moreover, the product quality is very good, reaching the standard of thickness and strength parameter also. In addition, Vinatech Group was the prestigious manufacturer since the production and installation time has matched closely with our expectation.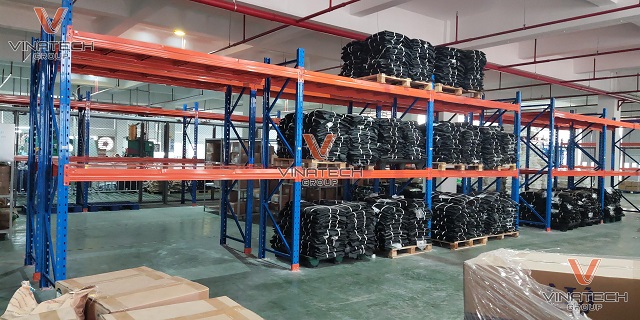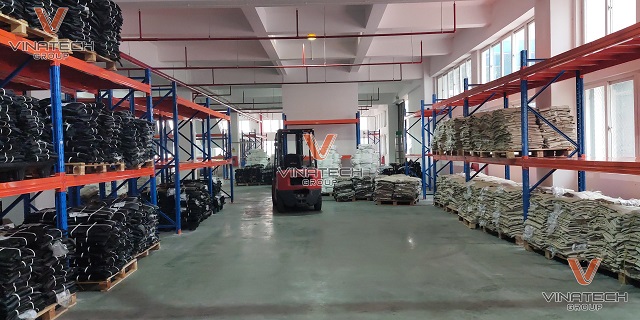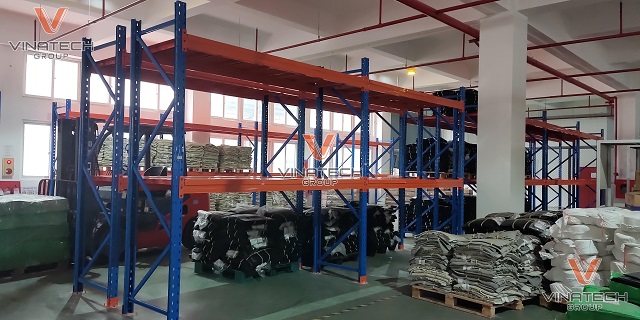 2. Vinatech Group has determined the quality of product is an essential core value
For Vinatech Group, the constructing the the prestige and reputation from the performed projects is very important, in addition to ensuring the best quality of products, Vinatech Group also focuses on building professional Customer services.
In addition to basic criterias, including: Quality is the No.1, prioritize the Customer benefit with reasonable price; express delivery & installation service, etc. Vinatech Group always pay special attention to consult and support the customer to fit their demand with right products.
In addition, Vinatech Group always has a special team of project consultants, depending on the project size as well as products demand, Vinatech Group has conducted the survey and recommended an appropriate products to help their customers to optimize the storage capacity as well as saving cost efficiently. This is the most essential criterion that Vinatech Group has impressed firmly the customers throughout nationwide.
With more than 10 years of establishment and development, Vinatech JSC has cooperated with many "Big Boss" in retail industry, such as: Ha Dong Aeon Mall, Vinmart Store chain, Cau Giay Lottemart, Buon Me Thuot Big C, and constructed the advertising display shelf for Pepsico from 2015, etc. Vinatech Group has collected the sufficient criterias and powerful to become the 1st position in shelf/ racking manufacture field in Vietnam.
– The most competitive price.
– Find the best solution for Customer.
– Outstanding quality & modern design
– Express and safety delivery and installation.
– High skills and experienced team of consultant.
– Assure the confidential information.
For free consultant, please feel free to contact Hotline 0978.755.579 for prompt feedback.