Vinmart + project is one of the major projects of Vinatech Group.Within 07 days, Vinatech has successfully established 25 Vinmart + branches throughout the country. This is an remarkable effort and demonstrate an outstanding ability of Vinatech Group in the shelf market.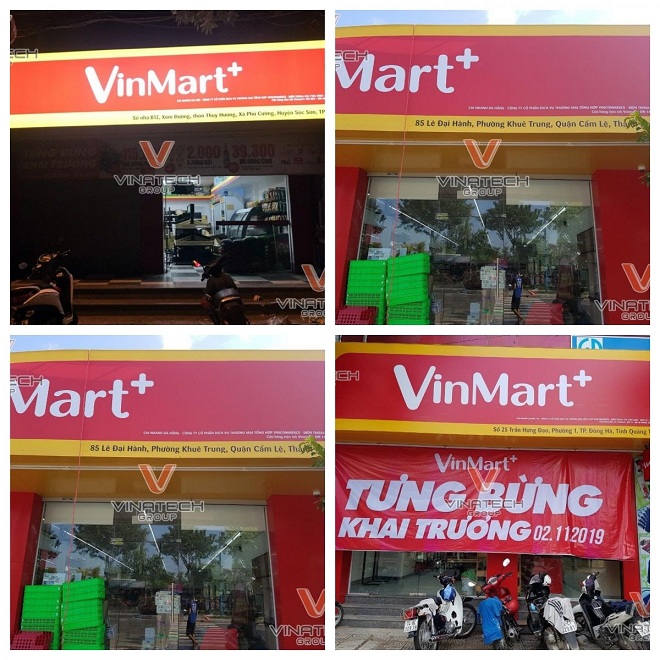 1. Why Vinmart+ choose Vinatech Group?
Vinmart + is a retail store chain belonging to Vingroup, a leading multidisciplinary economic group in Vietnam and region. Therefore, Vinmart + is very strict in the process of selecting the supplier of supermarket shelf.
Feedback from the representative of Vinmart +, the display shelves are very important, if select a poor quality product will adversely affect to many factors. Firstly, the aesthetics of the stall, followed by the safety for customers and staff during the purchase and sale process. Using shelves with weak frame, warping, rough edges will not guarantee a durability, could lead up to the risk of sagging, deflecting, even collapsing damaged good as well as the safety of the customers.
Base on the research so far and directly visit to the Vinatech Showroom, Vinmart + has decided to cooperate with Vinatech Group and sign the Contract immediately. Accordingly, Vinatech will receive the provision of punched backboard type and grid backboard type of supermarket shelf, vegetable display shelf, fruits and noodle basket shelves, … for almost store chains in the regions. All shelves are powder coated in luxurious black color with diverse sizes. In addition, Vinatech ensures the best benefits for Vinmart + during the setup process.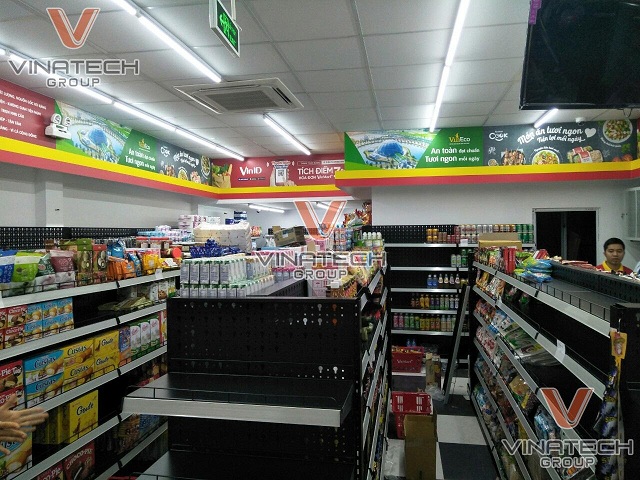 Punched backboard type is priority selection of Vinmart+ Store chain.
Evaluating in detail about product quality as well as sales service of Vinatech Group, the representative of Vinmart+ highly appreciated the Vinatech Group by satisfying all requirements and standard of Vinmart+, specifically as follows:
The quality is the best: Compared to other suppliers, the shelf of Vinatech is made from high quality raw materials of famous Hoa Phat Group, especially in application the Japanese production technology, so there was a big gap in quality and design between Vinatech Products and others. Detail components: Upright; Shelf; Fence; Bracket are thicker than usual. The shelves are punched with the brand logo. Final products are packaged, stamped with, company name label to ensure the safety during transportation progress, and mark the professionalism of a reputable manufacturer.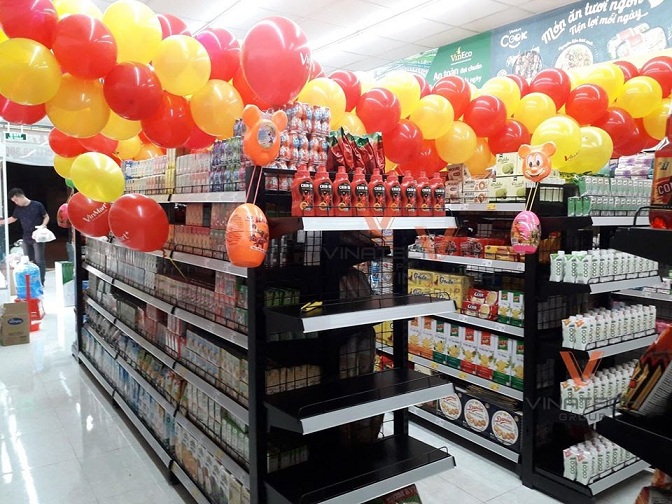 Modern & Professional display of store.
Using Jotun and Akzonobel powder coatings and applying the most modern powder coating technology with highly resistant to scratches, oxidants, resistant to chemical agents as well as climate condition in Vietnam. The color on surface has met the standard, uniform and shiny.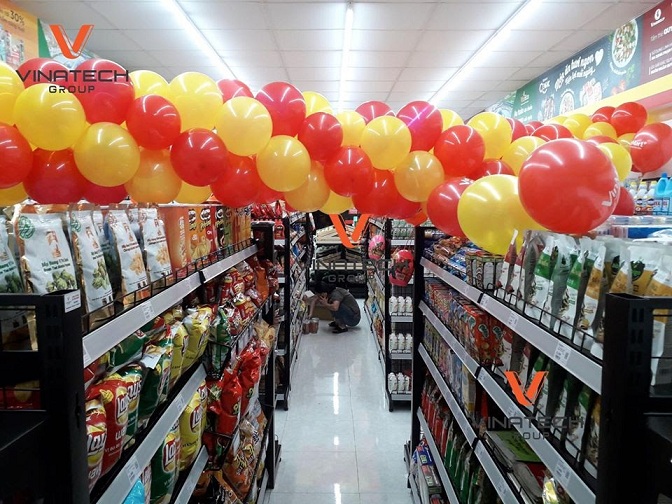 Vinatech shelf have good bearing capacity, able to display a variety of items.
A modern design, safety and maximum useable utility. With good thickness layer, Vinatech shelf have high bearing capacity, able to display a variety of different goods, and the shelf is larger than usual could help to display more goods. For supermarkets or modern stores application, Vinatech shelf can meet the comprehensive quality and design.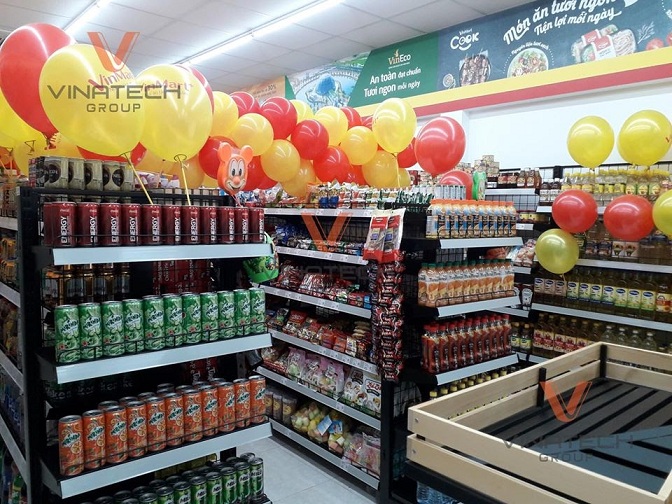 The shelf is larger than usual could help to display variety of goods.
The major benefit: Vinatech Group has the considerable advantage from a direct manufacturer, hence Vinatech always offer an attractive price for customers, especially for project order. Vinatech always guarantee the Customers profit from buying the products at the EXW price without going through any third party. Therefore, the customers will be in favour of many benefits in the process of exchange as well as product warranty.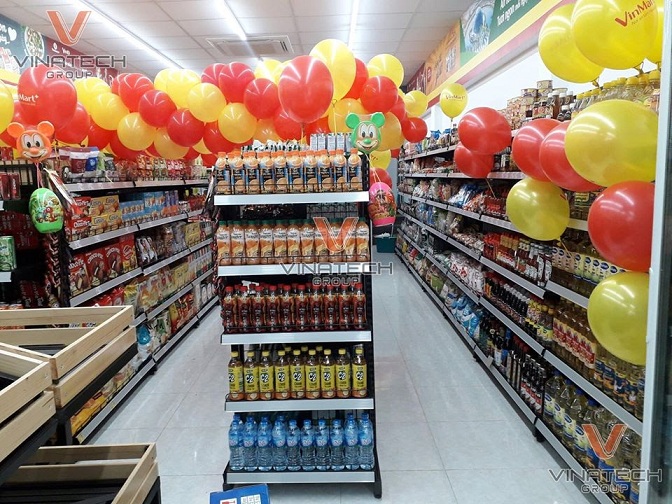 Optimizing the store space to be convenient with sales and purchase operation.
Catch the delivery schedule: Punctuality during the process of manufacturing and installation process for Vinmart + Store chain, Vinatech Group has shown the professionalism and qualification of a high reputation manufacturer which has made the installation schedule on time and quickly at 25 stores in many provinces: Da Nang, Quang Binh, Quang Tri, Hanoi, Thai Nguyen, Lang Son, Bac Ninh, … Technical installation team of Vinatech has worked overnight to the catch up opening day as initial planned.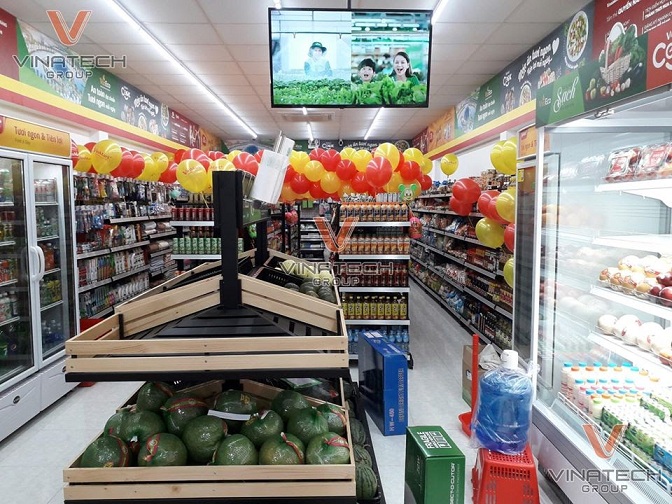 Beautiful and modern Vegetable & fruit display shelf, convenient for customers choice.
Keeping Prestige during the cooperation process: Vinmart highly appreciates the Prestige of Vinatech Group. All terms signed in the contract, Vinatech are fully implemented, on schedule, planned, ensuring the best interests for Vinmart +. With excellent results that not all companies can do, Vinmart + wants to have long-term and sustainable cooperation with Vinatech in the next time.
Keep the prestige of Enterprise in connection of Contract: Vinmart has highly appreciated Vinatech Group in heightening the prestige in connection of Contract. All Terms and Conditions which stipulated in Contract has been satisfied and performed accordingly in a good way, match the schedule and guarantee the customer benefit. With an excellent result, Vinmart+ is willing to establish the long-term cooperation with Vinatech Group not only for this project but also for many further order in near future.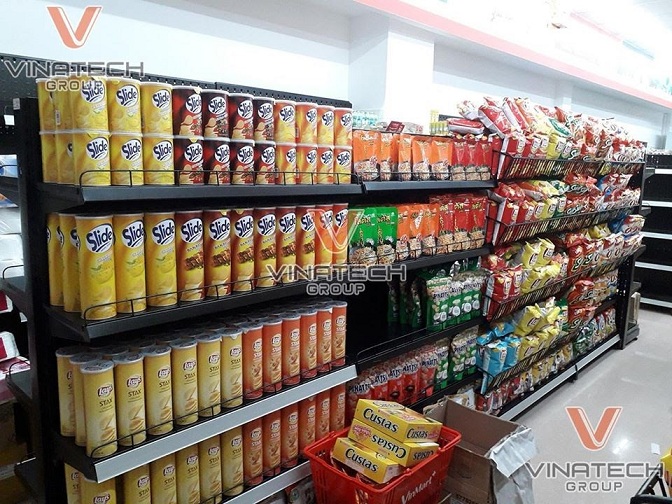 Vinmart+ is really satisfied about the quality and professional service from Vinatech.
2. Vinatech represents the leading position in shelf manufacturing industry
Not only Vinmart + project but Vinatech Group has conducted many other major project, such as: Aeon Mall Supermarket; Big C; Lan Chi supermarket; Lotte; Vinamilk; Nutifood; Thien Long; mini supermarket chains Vinmart, … and hundreds of thousands of medium projects throughout the country. The network of loyal customers is expanding everywhere and getting high appreciation from investors in the supermarket sector.
For typical projects, not all supplier could take over the project due to the limit liability in such circumstance: producing a large number of products in a short time, high standard product quality, competitive prices. and the progress of transportation – quick installation, …
A representative of Vinatech said that "For us, the reputation in business is more valuable than gold. All large and small projects, we respect and do our best to keep customers in time for the opening day. We have had 10 years of manufacturing shelf sector, up to now, no customers have complained about the quality of products, which is the motivation for us to serve customers better and better".
Not only performing all above criteria well, Vinatech has a team of professional consultants to consult the suitable products as well as how to arrange scientifically and impressively. At the same time, for detail consultant correctly, Vinatech team will come survey in place and carry out to measure the ground to make 2D and 3D design to help customers easily visualize their store before installation.
In addition, Vinatech Group owns a professional, highly qualified installation technical team, performs standard set up, professional installation quickly and dedicated.
Vinatech Group is willing to serve our customers throughout the country. Please feel free to contact Hotline 0978.755.579 for detailed consultant.