Supermarket Shelves
In today's supermarkets, mini supermarkets, shops, and groceries, supermarket shelves are a necessary piece of equipment. where there are seamless corrugated iron shelves in various sizes and corrugated iron shelves. 
View More
Vinatech Group would like to provide the following extensive information on a few well-known supermarket display shelves as well as detailed quotations to assist customers in making the best choice of shelf in terms of size, price, and display area.
Specifications and Structure of Vinatech Group Supermarket Shelves
Specifications
Weight: 110 – 199 pounds/floor.

Shelf size: Length x Height: 700×1200; 700×1500; 700×1800; 900×1200; 900×1500; 900×1800; 1200×1200; 1200×1500; 1200×1800 mm.

Shelves: long (19.7 in) x wide (10.15 in) x thick (0.03 in).

Number of floor trays: 3 – 6 floors or as required.

Attached accessories: Plastic clips (racks), barriers, roof panels.

Color: standard white (other colors on request from customers).

Cold rolled steel material according to Japanese JIS standards.

Powder coating according to European standards.

Material tolerance 0.5%.

Warranty: 36 months.

Amazing Ways to Use Supermarket Shelves
Application to present products in shops, grocers, supermarkets, and mini-supermarkets in a professional, academic, and aesthetically pleasing manner.

In the store, shelves aid in product sorting. Customers can readily find items when shopping as a result, and managers can conveniently manage the merchandise on display.

Can serve as a shelf for displaying various products and items of various loads and sizes.

Furniture and shoes can be kept in the family on shelves, which is highly practical.
Don't forget to click the consultation option below for free guidance from Vinatech's knowledgeable professionals on opening supermarkets, stores, and groceries!
Outstanding Advantages of Vinatech Group Supermarket Shelves
Customers can be confident in the shelf quality while using Vinatech Group's supermarket shelves because:
We are dedicated to using grade 1 iron and steel as input materials from reputable standard iron and steel suppliers like Hoa Phat.
Only provide brand-new shelves with all the information packaged together.
The details are always thicker than the floating shelves currently available on the market and are precisely the same thickness as the original shelf requirements.
In contrast to other items that are hand-welded, the leg base is joined by a Vinatech robot to strengthen the frame and improve its appearance.
To support the tray more solidly and durably, Vinatech shelves usually include four lugs. While the shelves currently on the market only employ bowls with three lugs.
In order to prevent displacement during disassembly and warping over time, the tray is constructed with a consistent force, preventing the dispersion of force on the two ends of the tray.
The tray should always have more breadth and thickness.
More meka splints make the shelves more aesthetically pleasing and make it much easier for the grocery store and supermarket owners to install the display racks.
Comparatively larger and more durable than other goods, the tray barrier is simple to install securely in the tray without toppling over.
Why Should You Select Supermarket Shelves From Vinatech Group?
Of course, supermarket shelves are fairly simple to find in today's market. Why would customers choose Vinatech Group's supermarket shelves from the offerings of countless other suppliers? 
In order to respond to your inquiry, we have outlined the benefits and distinctions between supermarket shelves made by Vinatech Group and those made by other manufacturers currently on the market. As follow:
Exceptional Supermarket Shelves
As you may already be aware, there are many different styles of cheap, low-quality iron supermarket shelves available on the market today.
to distinguish between the iron supermarket shelves made by Vinatech and other types of supermarket shelves now on the market. For more information, see the following comparison table:
Vinatech Supermarket Shelves
Ordinary Cheap Supermarket Iron Shelves

Shelves Detail

Full includes: roof panel, fence, splint, adjustment, bowl arms, tray, corrugated iron back, and pillar legs.

Usually 1-2 details are missing

Material

Using grade 1 standard Hoa Phat steel that is uniformly thick on the surface.

Using steel grade 2, 3, uneven thickness, easy to rust.

Pillar Leg

Specially created to aid in spreading the force of the tray insertion uniformly and stop the tray from shifting.

Automatic welding robots produce strong, attractive welds while welding pillars.

The thin pillar type usually only bears the force at both ends when the tray is very easily moved.

The pillar's foot is hand-welded, which is not aesthetically pleasant.

Iron Tray

Use good material, thicker and wider.

The tray is not huge and readily bends after a short period of usage because it is made of thin corrugated iron material.

Surface Treatment

Automatic 2-layer electrostatic paint makes the color of the paint more even, attractive, and long-lasting.

After some time of usage, it is simple to peel off when using regular paint or a thin layer of electrostatic paint owing to oxidation.

Shelf Hand

The shelf has four thick lugs that have been meticulously polished to help it better withstand force and ensure the user's safety.

The shelf arm has only 3 lugs and is thinner, the sharp edges are easy to cause danger to the user.
Utilizing Current Production Methods
The details of the supermarket shelves with welds are all welded by an automatic robot that does not reveal the less aesthetic welds like when welding by hand.
Vinatech shelves are automatically squeezed, which results in significantly improved levels of sharpness, attractiveness, and safety.
Vinatech's automatic powder coating technique makes it possible for the shelf's paint color to be considerably more attractive, vibrant, and long-lasting than manual painting.
To prevent leaving behind sharp or angular portions that endanger users, the technical method is used to process every aspect of the shelves.
Continuously new equipment is imported to guarantee top-notch product quality.
Support customer installation and configuration till they are satisfied.
Support a 36-month warranty on grocery store shelves. If there are issues or manufacturer-related mistakes, return the item right away.
Support a variety of payment options and offer customers flexibility.
Other Advantages Include:
Find out additional tips on how to set up and showcase the products to draw in as many clients as possible.
Support and guidance on associated supermarket equipment and goods, such as storage shelves, display racks, cashier stations, carts, and sales software.
Excellent savings for large orders.
Supermarket Shelves Quotation
*Note: The pricing list is provided as a guide only; supermarket shelf prices are subject to change. It excludes VAT. Please call our hotline at 086 758 9999 to get the most recent price information.
No

Type

Detail

Set

Price

1

23 x 39 ft

1 tray 320; 2 tray 300

Set

$33.99

2

23 x 49 ft

1 tray 320; 3 tray 300

Set

$41.99

3

23 x 59 ft

1 tray 320; 4 tray 300

Set

$50.99

4

29 x

59  ft

1 tray 320; 2 tray 300

Set

$38.99

5

29 x 49 ft

1 tray 320; 3 tray 300

Set

$48.99

6

29 x 59 ft

1 tray 320; 4 tray 300

Set

$59.99

7

39 x 39 ft

1 tray 320; 2 tray 300

Set

$46.99

8

39 x 49 ft

1 tray 320; 3 tray 300

Set

$58.99

9

39 x 59 ft

1 tray 320; 4 tray 300

Set

$71.99

10

23 x 39 ft

2 tray 320; 4 tray 300

Set

$69.99

11

23 x 49 ft

2 tray 320;6 tray 300

Set

$87.99

12

23 x 59 ft

2 tray 320; 8 tray 300

Set

$106.99

13

39 x 39 ft

2 tray 320; 4 tray 300

Set

$84.99

14

39 x 49 ft

2 tray 320;6 tray 300

Set

$107.99

15

39 x 59 ft

2 tray 320; 8 tray 300

Set

$130.99
Details About Each Type
Single Supermarket shelf
This is a low-cost supermarket shelf that has one side used to display items and two L-shaped pillar legs that are pressed against the wall or the top of each shelf. suitable for usage as a small-space mini-supermarket shelf; must maximize the display area.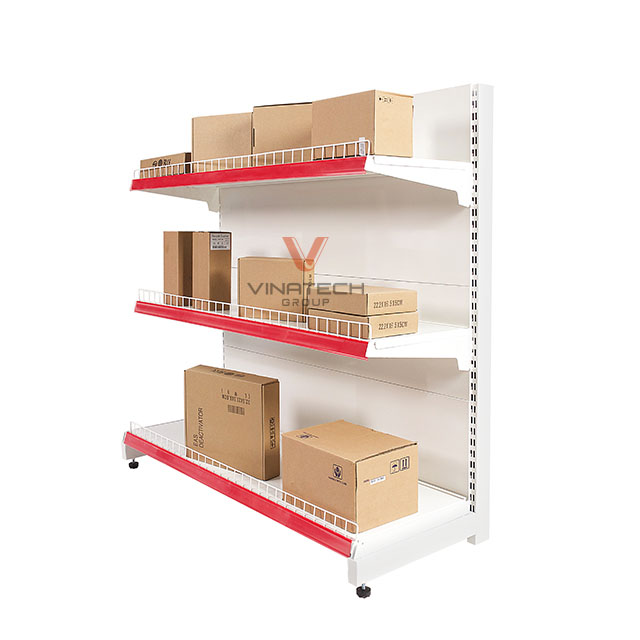 Double Supermarket Shelf
A style of supermarket shelf that displays products on both sides of an inverted T-pillar. In large supermarkets and hypermarkets, shelves are frequently used and organized in rows in the center display area.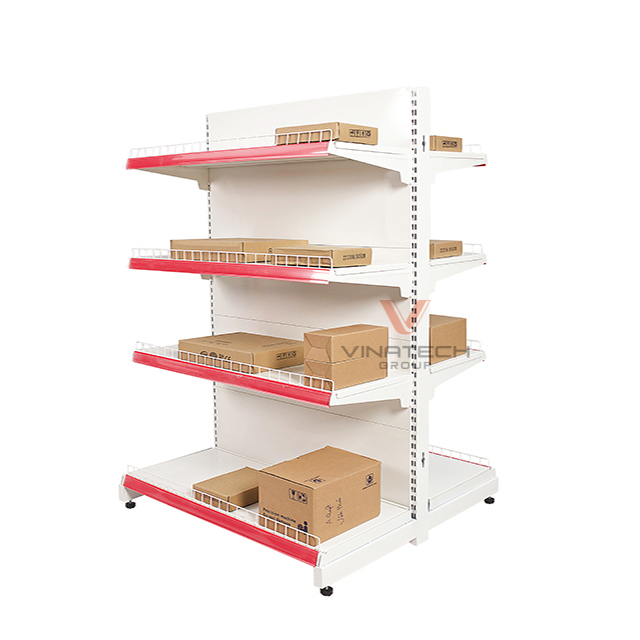 Hole-filled Shelves
It is a style of supermarket shelf that has a corrugated board as its back. This is a relatively common shelf form used to display items in grocery shops and supermarkets nowadays with a distinctive corrugated iron shape.
Flat Iron Shelf
A type of supermarket shelf with the back of the shelf is a sealed sheet. The advantage of the flat iron shelf is its certainty and high durability, so it is not only applied to display goods in supermarkets, but also applied in stores for supplies, accessories, etc.
Conclusion
If you're still unsure of where to acquire shelves for your store or supermarket, Vinatech will be the best option as a company with more than 10 years of experience in making supermarket shelves. We are certain that we can enthusiastically and devotedly fulfill all customer needs. Please call us right away at hotline: 086 758 9999 or submit your request for shelves to obtain free guidance on setting up shelves for grocery shops and supermarkets, receive quotes, and order Vinatech supermarket shelves. by completing the form below.