Warehouse Racking System
I. Vinatech Group's Racking Introduction
Racking is a tool used to store a variety of commodities. In order to maximize space and operating expenses for organizations, racks are frequently employed in warehouses nowadays.
Racks from Vinatech Group are goods that have been well-known and branded for more than 12 years. Vinatech is always happy to offer customers the highest racking quality for the following reasons:
1. Excellent
If the Vinatech racking were a meal, it would make consumers eat it just once and remember it for the rest of their lives. Since Vinatech's racking is continually being enhanced, it is not combined with any other unit.
Kệ Vinatech đạt chứng chỉ chất lượng ISO 9001:2015
2. Modern Factory
Vinatech Group is a company that specializes in producing racks on cutting-edge production lines that are imported directly from Europe.
All of the components of the Slotted Angle Rack including the base, tray, and shelf frame, are often imported straight from Hoa Phat iron and steel. As a result, the thickness is extremely thick and the bearing capacity is always greater than that of other units.
Vinatech's Slotted Angle Rack is a solid block of pure iron that is always 11.8 x 15.7 inches or 15.7 x 19.7 inches in dimension. Vinatech manufactures pillars using cutting-edge equipment, including rolling forming lines and automatic welding robots, in addition to high-quality materials.
The base of the racking is particularly safe and attractive since the edge is rolled into form. Robotic automated welding should always provide well-adhered, even welds.
The Vinatech Slotted Angle Rack's tray is made entirely of corrugated iron and was imported straight from Hoa Phat Iron and Steel. As a result, it has a lovely shape and consistently outshines other trays in thickness and width. Vinatech uses a rolling line to shape the plate surface as opposed to alternative racking that is processed manually, and the edge of the tray is always shining, crisp, and secure.
The frame for Vinatech racking is a block of pure iron that is directly bonded to the pillar's body. To help the pillar carry a heavy load, the shelf structure is diagonally welded. The robot automatically welds the joints, resulting in strong adhesion and beautiful joints.
II. Quotation for Racking
Slotted Angle Rack: from $59,99/set.
Medium Duty Rack: from $103,99/set.
Heavy Duty Pallet Rack: from$106,99/set.
Vinatech's Racking System will have varying selling prices depending on the size and type of racking. Based on the following factors, Vinatech will give customers a quote for rack prices:
+ Dimensions and storage capacity based on the rack. Smaller and more lightweight racking will be less expensive than larger and heavier racking.
+ Warehouse size and the quantity of racks required by customers. This implies that there will be a considerably more advantageous and lower price with huge projects or when buying racking in a large number of clients.
Additionally, if there are different criteria for high-class, varied designs, and racking materials, those requirements will also be taken into account when determining the cost.
As a result, Vinatech Group is unable to provide customers with a particular racking pricing list if they do not know the quantity of racks needed, the size of the warehouse, and the weight of the cargo being held.
III. Analyze 10 Vinatech Group Samples of Racking
1. Vinatech Slotted Angle Rack 
The Slotted Angle Rack is made up of several components that are firmly connected to one another.
Two layers of electrostatic paint are electrostatically sprayed onto the entire rack frame to provide beautiful durability and shield the shelf from external elements like termites, mold, and damage while in use.
Slotted Angle Rack by Vinatech Group
Advantages:
The cost is less than that of the competition's storage rack.
To meet all client storage demands, a variety of sizes and loads are used.
The rack is simple to assemble, move during usage, and disassemble.
Versatile when kept in production warehouses, industrial warehouses, document and file storage locations, retail displays, and storage locations for home appliances (clothes, hats, shoes, etc.)
Disadvantage:
The rack can only hold items that weigh less than 330 pounds.
Use in a tiny factory, a home, or for personal.
2. Medium Duty Racks
Medium Duty Storage Racks can hold items weighing between 440 and 1100 pounds per floor. To conserve storage space on each rack, goods are placed onto them using sheets or boards rather than pallets.
The medium rack is fundamentally a scaled-down counterpart of other rack types, such Selective or Double Deep Pallet Racking.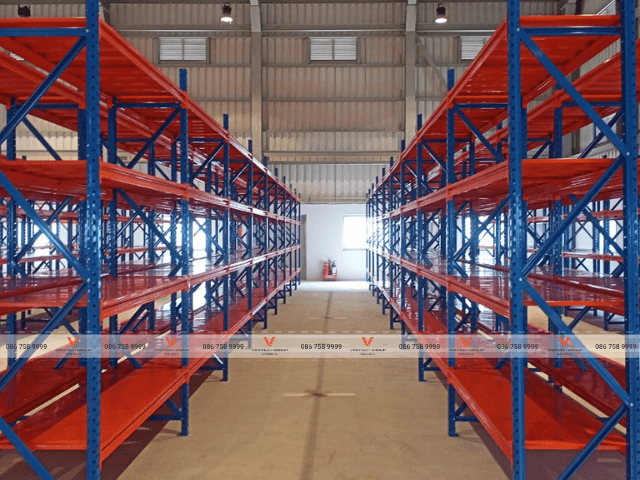 Vinatech Medium Duty Rack
Advantages:
To make it simple to disassemble and adjust the size of the floor area to suit the storage products, the rack unit is connected by bolts and screws.
Can be paired with other racking or other Selective rack types.
Simple layout, simple installation
Disadvantage:
May only store items weighing less than 1100 pounds
Unsuitable for big and heavy items
3. Heavy Duty Pallet Racking System
Heavy Duty Pallet Racking has high durability, great resistance, shelves with the ability to store goods from 2200 – 6600 pounds depending on each rack model. The racks are all sprayed with high-grade electrostatic paint to bring a modern, safe and durable goods storage space for customers.
High Quality Heavy Duty Rack
Advantages:
The shelf frame's tallest point can be 43 feets
Savings for investors and enterprises
Convenient and secure for those working in the warehouse immediately
Disadvantage:
There are numerous options, so clients must be careful to select the appropriate shelf
Storage space varies according to kind
4. Selective Racking System
One of the most popular racking systems on the market today is the selective racking system. Racks for big loads that are practical for all pallet sizes, have a straightforward design, and are simple to take up.
Direct access to each pallet position in the warehouse is made possible by selective racking. This type of rack needs to be utilized for product lines with high levels of differentiation and low turnover to save the most money.
Selective Racking System
Advantages:
Racks having a high load capacity of 1100 pounds per pallet per floor, accommodating 4 to 12 pallets
Various storage capacities that are suitable for a wide range of specs and sizes
Simple floor tray spacing adjustments, operational requirements, and anytime rack replacement
Different import techniques, not in accordance with FIFO or LIFO guidelines
Fits all commercial forklifts
Disadvantage:
Unable to store long, oversized items
Only 40% of the available warehouse area can be used
5. Double Deep Pallet Racking
Double Deep Pallet Racking is structured by assembling double Selective racks together.
Double Deep Racking is suited for storing big items and may be used with a variety of forklifts for import and export.
Double Deep Pallet Racking
Advantages:
Bolts are used to assemble the rack structure, making it simple to relocate and adjust the distance between levels as needed.
In order to conserve the forklift aisle area, pallets for items are placed in two rows rather than one row like a selective rack.
Although Double Deep Pallet Racking has a better storage capacity, its investment cost is comparable to that of Selective Rack.
Disadvantages:
Only LIFO import and export procedures are used in Double Deep Pallet Racking.
Access to commodities has only been cut by 50%.
For items with a short shelf life, it is necessary to remove the goods from the outside in.
6. Mezzanine Racking System
A combination of racks and floors called a mezzanine floor racking system is used to expand the warehouse's usable space. Structured: A route or a location to store products can be created by the floor and the system underneath the truss.
A lot of companies can apply to have offices on the second or top floor. Install flooring to accommodate various product types' storage requirements.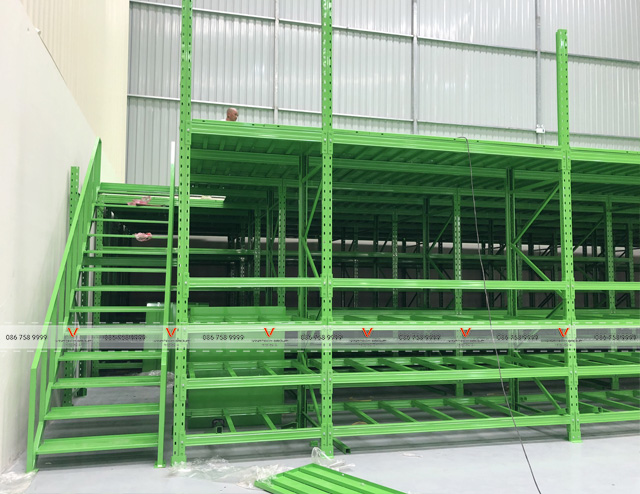 Mezzanine Racking System
Advantages:
Utilize the height of the storage warehouse to its fullest potential.
Owners of businesses do not need to look for space, decide where to expand, or modernize the warehouse.
Disadvantages:
Costly investments
Installing is a difficult task.
7. Cantilever Racking
The rack has a straightforward layout and is used to hold items of various sizes. The rack can hold items with lengthy pipes, wooden bars, bulky items, and enormous sizes for which other rack models lack sufficient storage trays.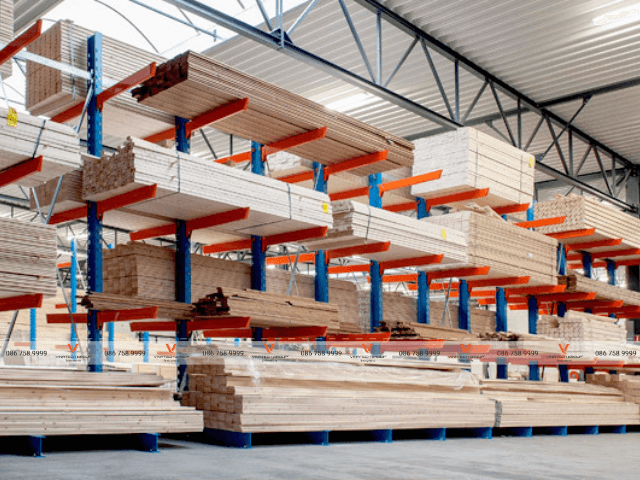 Cantilever Racking
Advantages:
Widely applicable and appropriate for a variety of commodities that need to be stored.
Using things to maximize space: furniture, carpets, steel pipes, sawn wood, etc.
The racking system is quite durable and has not broken down.
Be cautious when using it.
Disadvantages:
Large storage space is required.
The identical item should be kept on each rack.
8. Drive-In/Drive-Through Pallet Racking
Pallets must be homogenized before being stored in drive-in racking, which uses rails to hold items. The deep inside of the line will be handled by forklifts from the outside in.
The idea of loading and unloading LIFO goods starting from the inside out must be followed by racks. It does, however, maximize the available storage space. Up to 90% of the warehouse space may be used.
With the majority of storage goods now on the market, the racking capacity of 2200–11000 pounds per floor is effective
Drive-in Pallet Racking
Advantages:
Racks having a lot of merchandise on them
Being able to utilize more than 75% of the available warehouse space
Investing in warehousing allows investors to save money.
The price of leasing the space 
Disadvantage:
Low product accessibility.
Suitable for uniform items
Because import and export shelves use the LIFO approach, they can only be used for some products.
9. Carton Flow Rack Systems
Carton Flow Rack Systems move products in accordance with a racking system composed of iron supports. So, the goods will slide along the surface of the rack. Automatically moving forward are identical packages of goods.
In the warehouses of the manufacturing, automotive technology, logistics, and food industries, shelves are frequently utilized to store items.
They are frequently utilized in factory lines, helping businesses cut expenses by 75%.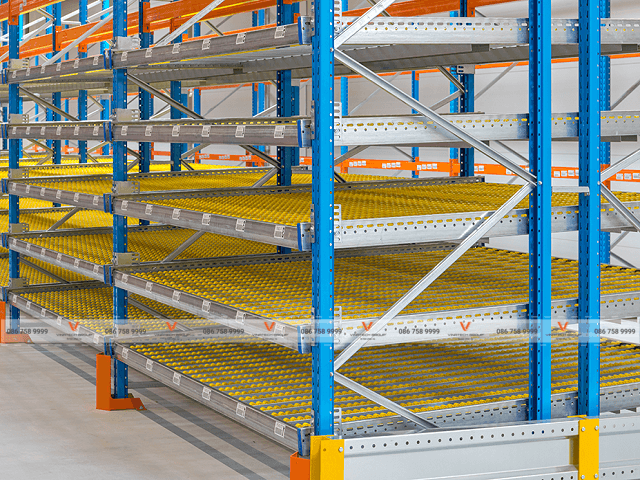 Carton Flow Rack Systems
Advantages:
Maximum floor storage weight is 2200 pounds.
The frame is a hole-punched omega and is fairly strong.
Rails and rollers are used on the shelf surface to speed up movement.
Good pallet retrieval, the capacity to pick, push, and move containers with ease
Disadvantage:
Operating according to the First In First Out (FIFO) principle 
Manual picking technique
High cost of installation
10. Mobile Racking
Many firms employ mobile racking because it is convenient and time-saving. Wheels installed at the base of the rack or rails fastened to the floor allow racks to transport products.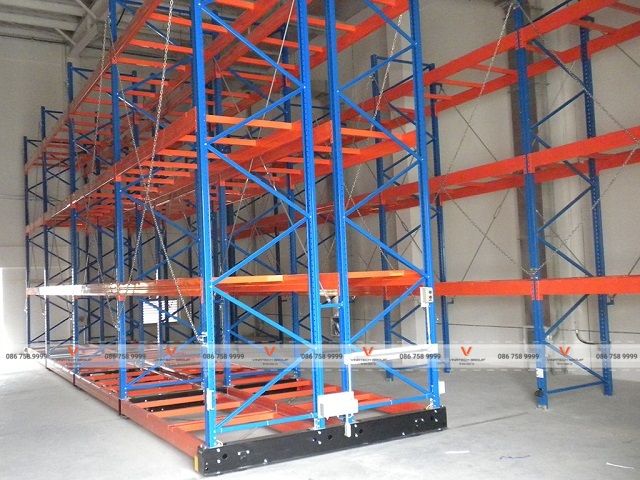 Mobile Racking
Advantages:
When organizing things in the warehouse, be simple to move about.
Maximizing the warehouse space and assisting users in simply picking up items
Disadvantage:
Installation challenges, rail system design challenges, and sliding feet
IV. Photographs of Vinatech-installed racking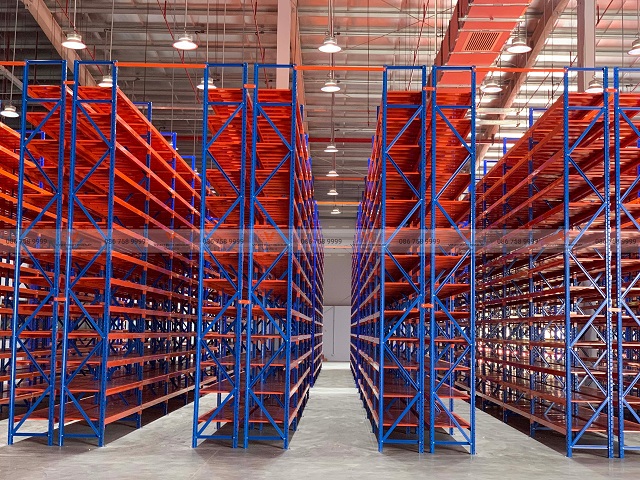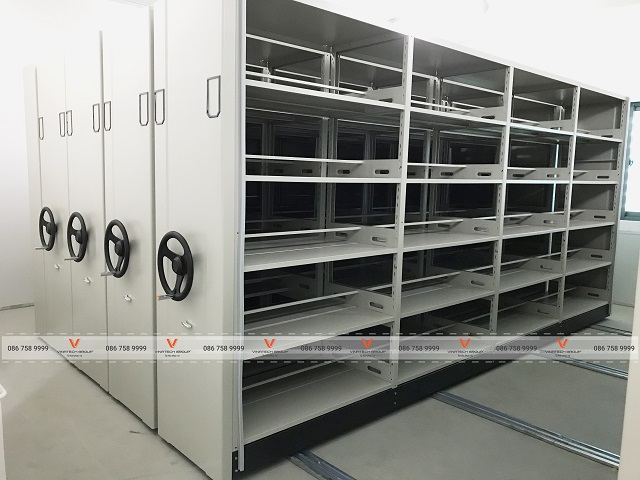 Photos of warehouse racking
Customers seeking free guidance on erecting warehouse racks can call Vinatech directly at +84 86.758.9999 or stop by one of its representative offices, which are located in all provinces and cities. Additionally, you can select the style of rack that is appropriate for the kind of items being stored in the warehouse with the best pricing. Please complete the information form below to request a free warehouse setup consultation.