Specifications
Selective Pallet Racking racks provide the direct accessibility to every pallet in the warehouse. For the product have low profit and/or large differences are likely to use this type of rack to save maximum costs.
This means that the Selective Rack was fit with the first in first out storage method "FIFO" (pallets could not be accessed until new items are exported).
Upright: Integrated slotted upright.

Shelf: Used Cross bar, tole, mesh, or plywood, MDF, Okal …

Beam bar: Connect 02 uprights whereas the pallet placed on.

Support bar: To keep the pallet stable.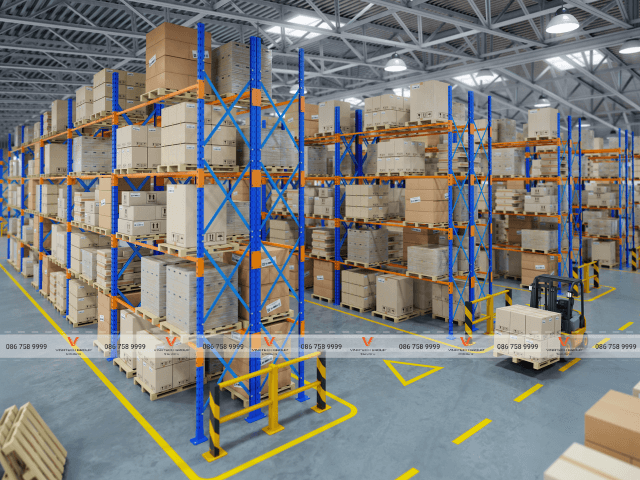 Standard Dimension Details
| | | | |
| --- | --- | --- | --- |
| Pallet (mm) | 800x1200 | 1000x1200 | 1200x1500 |
| Aisles | 800 | 1000 | 1200 |
| Storage Area | 2600 | 2200 | 2600 |
| No.of pallet /bay | 3 | 2 | 2 |
These criterias are in compliance with the Japanese safety standards which has been certified and widely applied in the rack/ shelf manufacture industry today. Based on this standard, Vinatech Group accurately measures system data to assure the product quality gain with ISO 9001: 2008 quality standard. 
In the purpose of creating the best quality shelf products to ensure quality and safety criterias as well as meeting the Customer demands and archiving the customer's storage system.
Selective Application
Selective Racking is an industrial shelf that is optimally manufactured to meet almost all sizes of pallets from medium to heavy duty loads.

Owners can move and change the distance between floors by turning the mounting bolts according to their needs and purposes.

Application in a variety of economic sectors such as industry, agriculture, fisheries, frozen storage, …
Note
Selective Rack take up much space of warehouse, if the storaged cargo to be large or cumbersome, this type of warehouse rack shall be not considered as the optimal solution.

Occupied significantly time for loading and unloading as the same type of goods will need to be placed on different heights / widths of different shelves.

High investment costs.
Specifications
Load Capacity: ≥ 500 kg/ Pallet.

Maximum Height: 12m.

Upright: Integrated slotted Upright.

Shelf: Used Cross bar, tole, mesh, or plywood, MDF, Okal …

Stock In/ Out Method: Forklift Machine.

Standard Color: Blue – Orange (at the Buyer's option).

Warranty Period: within 02 years.