Pallet racking is material handling storage aid system for storing and preserving goods in warehouses, helping storekeepers to easily import and export goods, manage and control the quantity and quality of goods in the warehouse. In addition, it helps warehouse owners save investment costs and bring high economic efficiency for their own businesses. Let study about this type of racks with Vinatech Group – the best pallet racking manufacturer in Vietnam.
What kinds of pallets are available on the market nowadays ? Within the scope of this article, Vinatech will guide you how to choose and distinguish types of pallets in the warehouse, so you can choose ultimate pallets for your warehouse.
Types of vietnamese pallets racks in the warehouse today
1.1 Drive-In Pallet Racking
Drive-In Pallet Racking is the most popular pallet form used today in Vietnam. This kind of pallet provides highest storage density for large quantities of products. That is the reason why it can enhance economic efficiency as well as increase the volume and quantity of products in the warehouse. Besides, the investment cost for each pallet location is low, increasing aisle space for forklifts.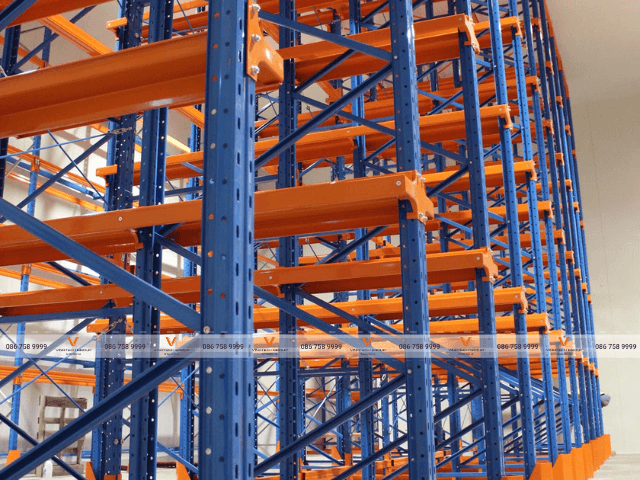 Usually, Drive-In Pallet Racking combines with Selective, Double Deep cargo racks.
Application: Application of many basic industries, food industry, especially cold storage industry.
1.2 Selective Pallet Racking
Vietnamese selective Pallet Racking is one of the most widely used system for storing and preserving products in warehouses thanks to pallets, also known as select shelves, because the system is designed to suit all different types of pallets. This is currently the simplest system of pallet racking systems in the warehouse but it is highly effective among heavy industrial load racking systems, suitable with all pallet specifications and warehouse size at moderate investment cost.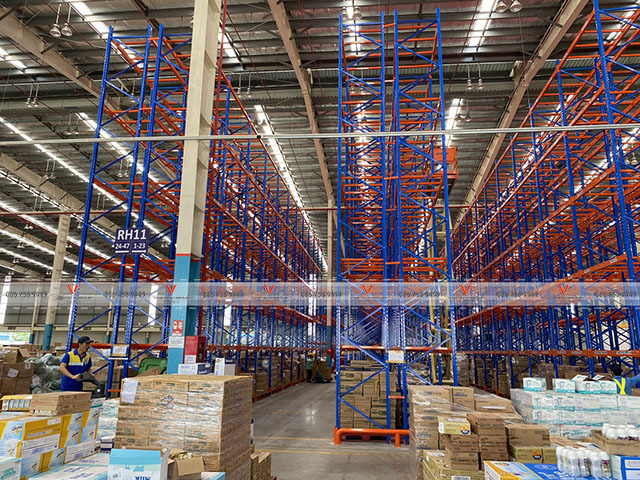 1.3 Double Deep Pallet Racking
Double Deep Pallet Racking System are formed by 2 lines of double selective rack back to back with each other, thus increasing the floor utilization thanks to reduced area for aisles. This is a pallet solution suitable for warehouses with small area but a large amount of goods in Vietnam
In order to have the most efficient storage system, customers should determine the type of products  to be stored, the actual size of the item, the weight of products and number of store floors to get the most suitable shelf model.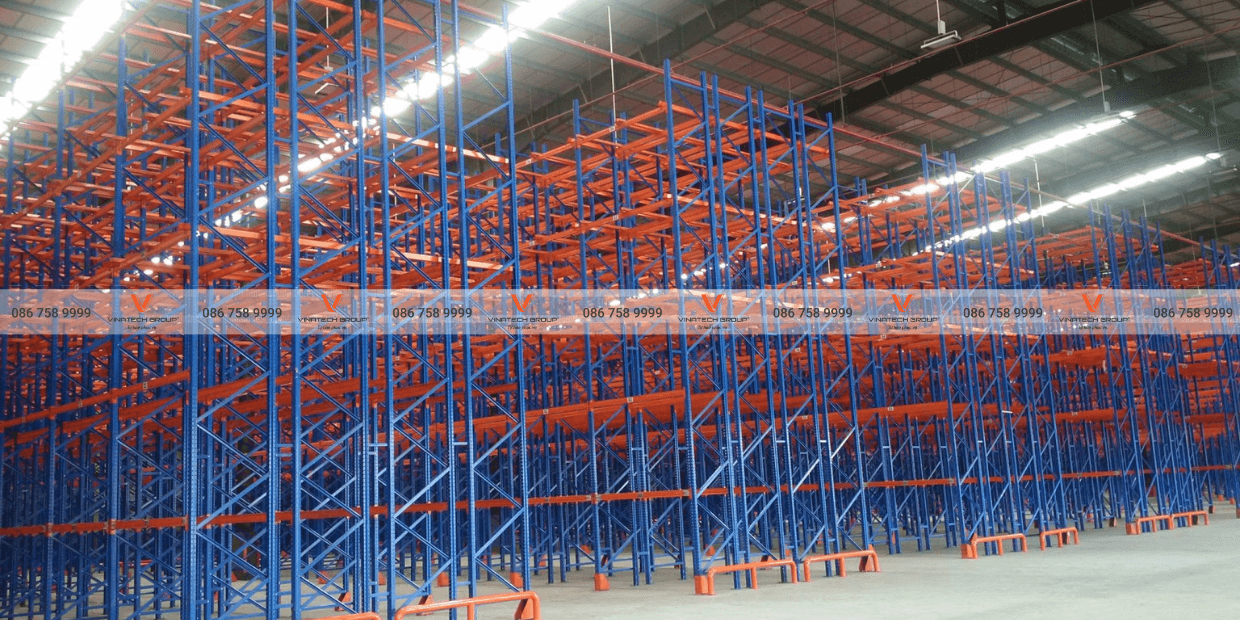 1.4 Narrow Aisle Pallet Racking
Narrow Aisle Pallet Racking is ideal for high storage capacity. This is a heavy duty pallet model suitable for high roof warehouses that need to narrow aisles.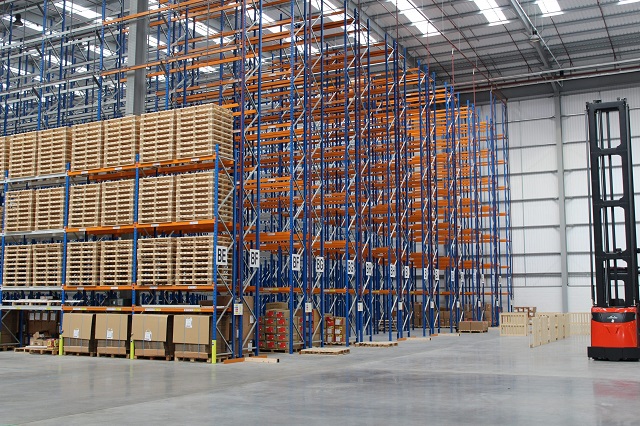 The type of forklift for this type ( known as narrow aisle turret trucks ) is a special forklift that designed with rotators in two directions perpendicular to each other when the forklift is stationary in the narrow aisle of the shelf.
When investing in installing this type of Narrow Aisle Pallet Racking, warehouse managers often consider the cost of buying this particular forklift and the cost of increasing the area used to make appropriate decisions.
1.5 Mobile Pallet Racking
Mobile Pallet Racking is a system of iron racks in stock with very high density, using 100% of storage locations. This system is completely pallet storage shelves close together, linked with mobile structures to help it move back and forth on the system of rails located on the floor. The moving parts are worked by electric motors and can be moved individually, or every single part, and allow access to any pallet at any time.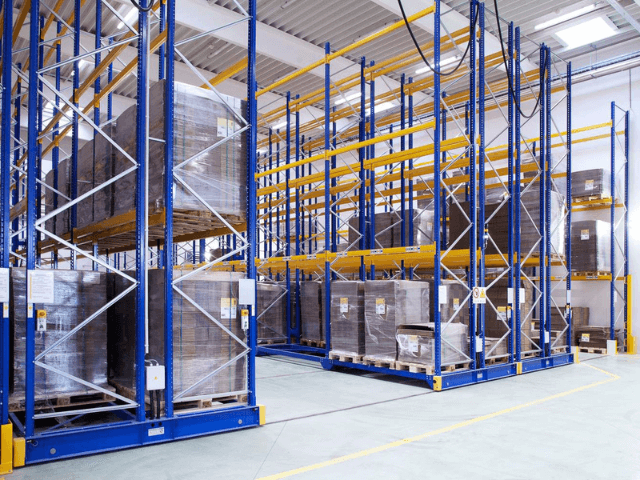 This type of pallet is very suitable for cold or extreme cold storage systems and can be applied to other industries where there is no need for many aisles, and the speed of goods transport is not important.
1.6 Pallet Flow Racking
Pallet Flow Racking have a different structure than the above pallet racking types. It is using rollers to push products inward and pull it out easily. Therefore, the force on the shelf decreases, which makes importing and exporting products easier and faster.
Application: In warehouses, the quantity of goods needs to be exported and imported in the direction of first in – first out.
Quotations of Pallet Racking from Vietnam at Vinatech JSC
Set of pallets and shelves for pallets do not have standard size but it will be manufactured and installed after measuring the ground, on the detailed design. Therefore, there is no listed price for this kind of Vinatech products. Currently, we can only offer prices ranging from VND 3,000,000 – VND 3,500,000 / set. Specific prices must also be calculated based on many factors after surveying and having detailed design. Customers who want advice and receive detailed quotes please contact the hotline: 086.758.9999.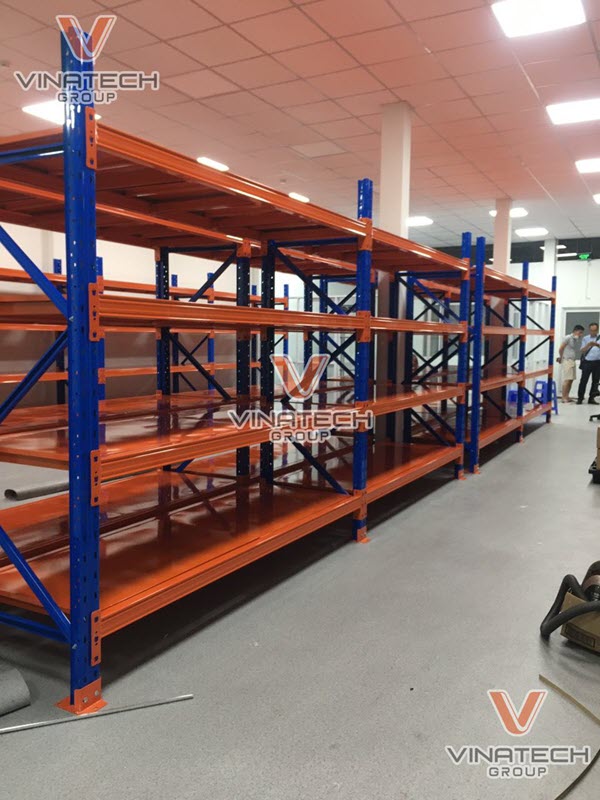 Above are the most commonly used pallet shelves and the expected cost for each set of shelves. Through this article, Vinatech hopes you will choose the most suitable pallet rack model. Interested readers can refer to the sample of cheap iron shelves of Vinatech.
Actual image of Vietnam Vinatech pallet rack installation project
Vietna Vinatech Group Joint Stock Company·
Hotline: 086.758.9999
Email: info@vinatectgroup.vn
Website: https://vinatectgroup.vn