Medium Duty Racking
Introducing medium duty pallet racks, available in a range of sizes, with an average weight of 440–1100 pounds/ floor that are now developed, produced, and delivered across the nation by Vinatech. Our most recent price list is below, along with more information regarding this kind of racking.

What Is Medium Duty Pallet Racking?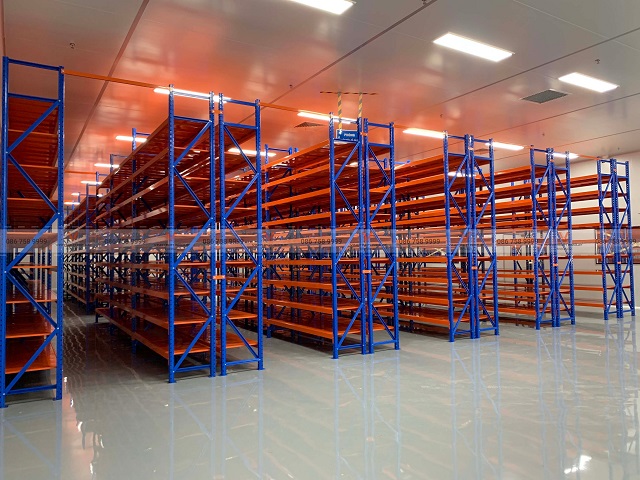 Best Medium Duty Pallet Racking
A form of warehouse racking called medium duty pallet racking typically has a height of less than 6.5 feet and carries an average weight of 440 to 1100 pounds per level. It is appropriate for small and medium-sized warehouses that house extremely optimum yet light items.
Vinatech currently offers two different types of medium duty pallet racks: cross-braced screw racks with a clean design that are simple to assemble and uninstall as needed, and welding racks that are solidly fixed.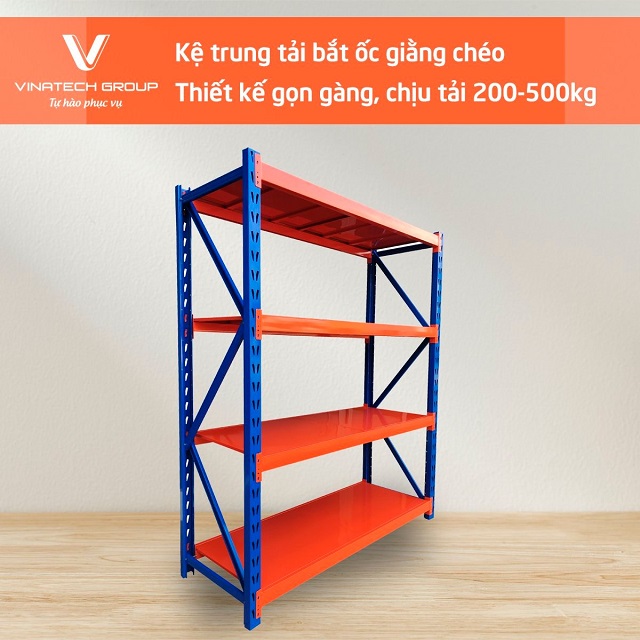 Medium Heavy Pallet Racking With Screws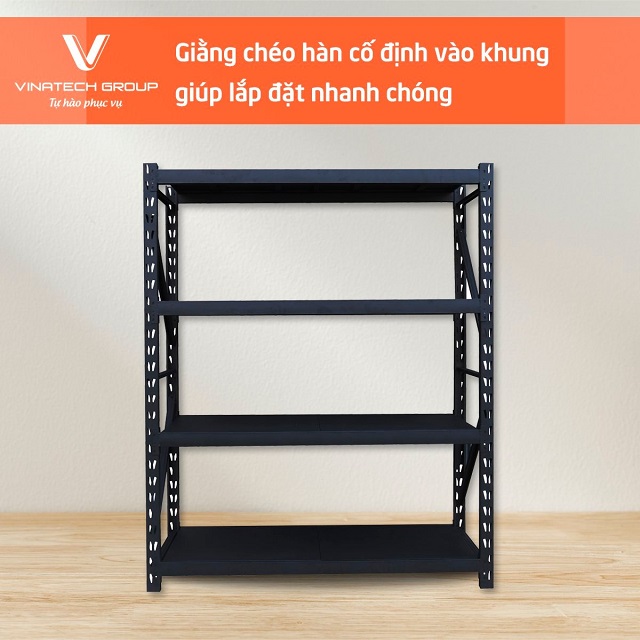 Fixed Welding Medium Heavy Pallet Racking
Features Of The Structure and Rack Specs
The medium rack's construction:
The medium rack product's construction is made up of an omega pillar, a beam bar, a beam brace, and a rack floor (corrugated iron, wood).
Readers can refer to the drawing of a medium pallet rack below for more information on the rack's structure:
Structure details of Vinatech medium duty pallet racking on the drawing
Specifications:
+ Dimensions: D1500xR600xC2000 or D2000xR600xC2000
+ Load: 440 – 1100 pounds/floor
+ Number of floors: 3-5 floors
+ Material: SPCC JIS G3141 Steel
+ Surface treatment: Powder coating
+ Color: Green-orange, black
Customers can request a rack in accordance with their own standards in addition to the aforementioned basic specifications by calling our hotline right away at +84 86 758 9999.
Vinatech Medium Duty Pallet Racking Advantages
Advantages of Medium-sized 3-tier Racks
The medium duty 3-tier rack can support up to 1100 pounds of weight per floor. Racks may show and store things in an orderly and attractive manner, and they're simple to wipe off when necessary. As a result, racks are frequently used in shops, offices, warehouses, schools,…
Advantages of Medium-sized 4-tier Racks
4-tier medium racks are versatile enough to move and change rack placements for a variety of functions, and they are designed to fit all existing warehouse layouts. 
Racks are frequently used in warehouses where inventory needs to be manually rotated continually for brief periods of time.
Advantages of Medium-sized 5-tier Racks
To handle a variety of products on the same floor area, 5-tier medium duty racks with standard sizes are offered or can be customized to order with loads ranging from 440 to 1100 pounds per level.
Flexible height adjustments are possible for the racks in accordance with usage requirements.
Customers rely on Vinatech Medium Duty Pallet Racks because of:
+ Large bearing capacity, high durability: Vinatech selects to use high-quality grade 1 iron and steel for production, and the product is made using contemporary machinery lines, making it very solid, good at bearing, and long-lasting in use. heavy usage
+ Wide range of uses: Medium Duty Pallet Racks are appropriate for use in a wide range of fields and industries since they can hold a wide variety of goods.
+ Modern design in accordance with European standards: Racks have modern designs in accordance with European standards to assist in the neat and professional preservation of items.
+ Making the most of warehouse space: Using racks to maximize storage space can help businesses and organizations avoid expensive warehouse expansion costs.
+ Service quality: Support all customer needs, including design, transportation, and rack installation. When there is a manufacturer's problem, there is a 24-month warranty period and replacement option. 
Vinatech's technical personnel will visit the site to conduct a site survey and design drawings in accordance with the size and load requirements specified by the customer before moving forward with the manufacture and installation of racks.
Price Lists for the Newest Inexpensive Medium Duty Pallet Racks 2023
Racks for typical loads are extremely varied, making it challenging for consumers to make a decision.
Customers can refer to the list of affordable medium-duty pallet racks below for the most accurate cost estimate for their investment:
No

Medium Duty Rack Type

Unit

Price

1

Medium-sized 3-tier Racks C2000 x R600 x D2000 (screws)

Set

$131.99

2

Medium-sized 3-tier Racks C2000 x R600 x D1500 (screws)

Set

$108.99

3

Medium-sized 3-tier Racks

C2000 x R600 x D1500 (welded)

Set 

$103.99

4

Medium-sized 3-tier Racks

C2000 x R600 x D2000 (welded)

Set

$127.99

5

Medium-sized 4-tier Racks C2000 x R600 x D2000 (screws)

Set

$161.99

6

Medium-sized 4-tier Racks C2000 x R600 x D1500 (screws)

Set

$132.99

7

Medium-sized 4-tier Racks

C2000 x R600 x D2000 (welded)

Set

$180.99

8

Medium-sized 4-tier Racks

C2000 x R600 x D1500 (welded)

Set

$157.99
Note: The price list is only provided as a guide. The precise cost will depend on a number of variables, including:
Supplier of intermediate shelves in another nation
Different shelf sizes and tray counts on a rack.
Standalone or serial set rack features.
Price: The current cost of raw materials.
Please fill out the details below or call the hotline at 0932.879.059 for the most accurate price.

Instructions for Installing Medium Duty Pallet Rack
Next, we'd like to provide installation instructions for medium-duty racks that can be easily disassembled:
Step 1: Gather the required equipment
When installing, you must have all of the rack's component pieces ready, as well as installation aids like hammers, screwdrivers, and other tools.
Step 2: Construct the gable frame by attaching the rack legs.
Place the horizontal bracing, foot cover, and two parallel Omega pillar legs where they need to be for installation. To assemble the gable frame, screw the pieces together one at a time. In order to build a sturdy return frame, tighten the screws.
Watch the video to learn how to correct and where to place braces.
Repeat the process with the second set of legs to create the first two frames.
Step 3: Install the beam into the first two frames in
Build the first two frames, then put them up. Ask a helper to hold the two frames together. Install hooks to the pin holes at the proper locations on the beam.
Please install the beam z in the positions to build a floor for the rack that truly meets the needs because the position of installing the beam is also where the trays are positioned.
Step 4: Install the beam brace in 
Iron square bars with two ends bowed at a 90-degree angle are known as beam braces. There are two holes between the beams for installing beam braces. Beam bracing installation can aid in fixing and stabilizing the floor.
Step 5: Install the tray in 
Install the tray to the beams after constructing the rack frame. Keep in mind that there will be 2 little trays on each floor, which must be positioned correctly.
At key locations, inspect and tightly tighten screws. To learn how to install this device, please watch the following thorough installation video.
Video on how to install Vinatech Medium Duty Pallet Rack
Why Pick the Medium Duty Pallet Racks From Vinatech Group?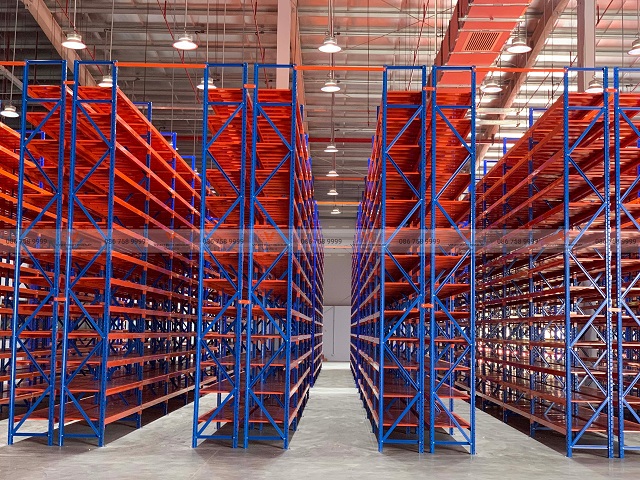 Racks ensure loads and aesthetics
Manufacturing companies have faced intense rivalry to win over customers' market share due to the rising demand for medium racks in the Vietnamese market. Vinatech has gained the trust of its clients by concentrating on shelf quality, updating designs, and enhancing customer service.
High-quality Item
When using an automated production line (such as an automated welding robot, roll forming machine, laser cutting machine, etc.) along with powder coating technology, Vinatech Group is confident in the product quality.
In particular, pick a supplier of Hoa Phat, Posco, CMC grade 1 SPCC cold-rolled steel materials and Tan Nam Phat, Akzonobel, or other reputable names for your high-quality powder coating.
Developing New Models to Meet Consumer Demands
Vinatech has introduced a new line of medium duty racks to enable clients to make more varied selections because we always strive to provide the best customer service possible.
Light and medium racks are prioritized, and fair fees are charged to help consumers cut investment expenses while still meeting their storage demands.
Better Serve Quality
Vinatech constantly places a high priority on customer service and makes significant efforts to provide users with a distinguished, expert, and thorough service experience that has advantages like:
Customers can get free measurements and advice on-site.

Free online design tool for professional 2D or 3D warehouse plans.

Racks are installed for free everywhere.

High discount for customers on regular projects.

Long-lasting, dependable product warranty.

Support for nationwide shipping

All client questions are answered 24 hours a day.
Images Illustrating the Installation of Medium Duty Racks
Please see the following images of medium duty pallet racks built and installed by Vinatech:
Medium duty pallet rack ensure loads and aesthetics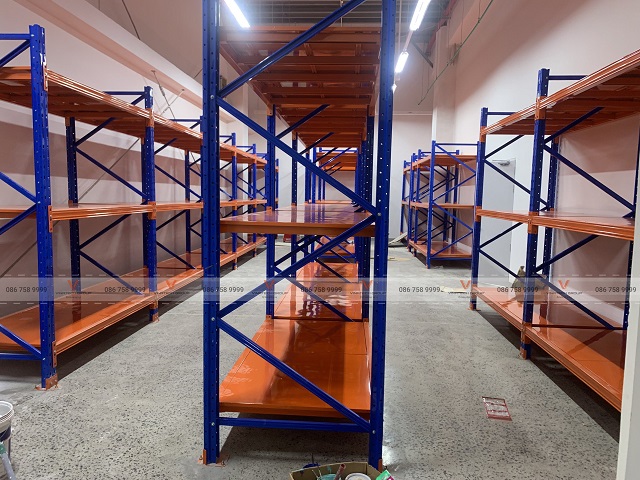 Medium racks are available in Vinatech's warehouse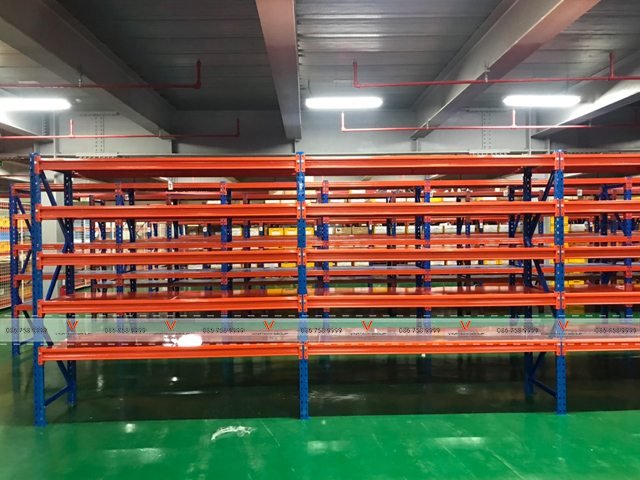 Medium racks with electrostatic powder coating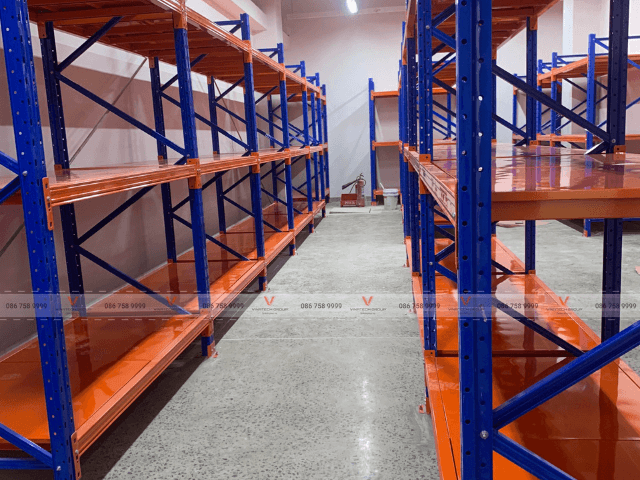 Hanoi cheap medium racking
Medium racking used for offices
Please call Hotline +84 86 758 9999 for recommendations and estimates on affordable mid-shipping racks and provinces all across the nation. Vinatech's professionals will provide the best guidance. Vinatech is dedicated to providing all customers with the best possible purchasing experience and top product quality.