Vinatech Group successfully completed the installation of supermarket shelves for Wonmart in Binh Chanh, Ho Chi Minh City. It has created a beautiful and modern display space for goods in the supermarket by laying out and installing a reasonable shelf system.
Readers are invited to refer to the following detailed information about the project as well as beautiful pictures after the installation of shelves for Wonmart:
Information About The Wonmart Supermarket Shelving Project
Investor: Wonmart Supermarket
Location: Ground floor Block MP2, Flora Mizuki, Mizuki Park, Binh Chanh, Ho Chi Minh
Category: Supermarket shelves in HCMC
Area: > 860 ft2
Type of shelf used: supermarket shelf, cashier desk, supermarket trolley
Wonmart Binh Chanh Supermarket Situation and Solutions
Wonmart is known as a convenient supermarket that offers a wide range of products to customers, including fresh goods such as meat, vegetables, and flowers. Wonmart Binh Chanh is considered a convenient shopping location for people living in this area due to its location right in the apartment buildings.
Wonmart Binh Chanh Supermarket in Ho Chi Minh City has an area of more than 860 ft2, which is large enough to display a variety of goods. The supermarket is designed to be light and attractive so that customers can easily observe and shop.
Vinatech Group is Wonmart's consulting, manufacturing, and installation unit, according to the agreement. Vinatech recommends using black hole corrugated iron supermarket shelves with green splints in accordance with Wonmart's brand colors, as well as adding other supermarket accessories such as trolleys, carts and shopping carts, and a cashier desk, based on the investor's needs.
Vinatech Group has consulted to design supermarket shelves with holes of 4-5 trays, suitable for displaying many different items. The tray can be adjusted to meet the needs of the display. Each shelf has a storage capacity of more than 180 pounds per floor, making it suitable for a wide range of goods.
Detailed Project Pictures
Here are some photos from after we finished installation of supermarket shelves for Wonmart in Binh Chanh:
Vinatech Group Specializes In the Installation of Supermarket Shelves
Vinatech Group, known as the leading supermarket shelf manufacturer in the Vietnam market, has installed supermarket shelves for Wonmart and thousands of other large and small supermarkets, creating a modern and beautiful shopping environment for customers.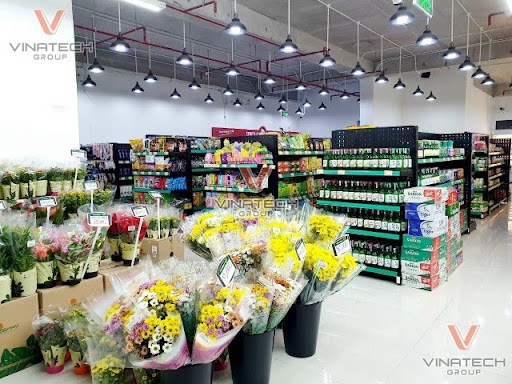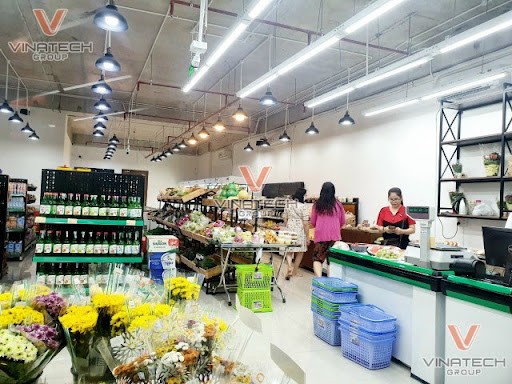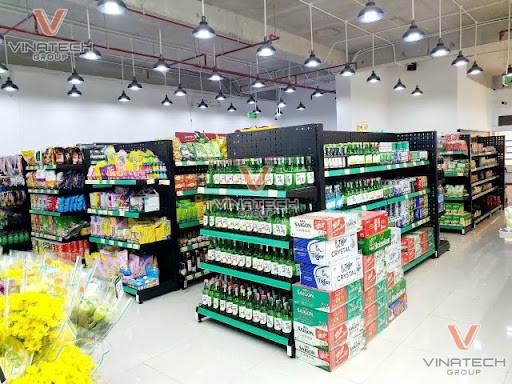 – High quality: Vinatech supermarket shelves are always of high quality due to the use of grade 1 iron and steel materials and the use of modern technological lines and the most advanced machines.
– Prestigious product warranty: All customers who install Vinatech Group supermarket shelves are guaranteed a reputable and long-lasting product. Advice on how to use and preserve products is available at all times when customers require it.
– Production on demand: In addition to standard size and color supermarket shelves, Vinatech Group manufactures non-standard sizes and colors to customer specifications.
– Rapid installation: Vinatech Group has a large installation technical team that is ready to install at any time the customer requires. Vinatech's team of experienced installers always makes customers feel safe.
Please contact Vinatech Group Hotline 086.758.9999 for advice on setting up supermarket shelves and supermarket accessories; we are proud to serve customers nationwide.