In 2020, Vinatech Group will continue to receive contracts for projects to provide general racking and medium duty racks in particular for warehouses of companies and enterprises across the country. Vinatech recently completed the installation of a medium duty racks for Hanacans Company at My Xuan B1 Industrial Park, Phu My commune, Ba Ria – Vung Tau province.
Information About Vinatech's Project to Provide Medium Duty Racking System
– Investor: Hanacans Company
– Location: My Xuan B1 Industrial Park, Phu My Commune, Ba Ria – Vung Tau Province
– Category: Racking in Ba Ria – Vung Tau, Medium Duty Rack in Ba Ria – Vung Tau
– Area: > 3230 ft2
– Type of rack used: Medium Duty Rack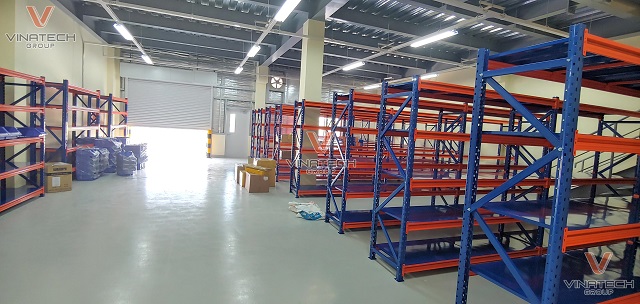 Hanacans' Warehouse In Its Current State
Hanacans is a company that manufactures cans, lids, and finishing cans for aluminum beverage cans. The company has established a production system with three factories covering all three regions of North, Central, and South, and has opened a new can factory in Ba Ria, Vung Tau Province.
Hanacans decided to install a racking system in order to have a modern and spacious warehouse space that is convenient for storing finished products, importing and exporting goods, and managing warehouses.
The company's warehouse in Ba Ria – Vung Tau is not particularly large, covering only about 3230 ft2. Because the storage goods are light and not bulky, the company only requires the installation of medium duty racks.
Vinatech's Proposed Solution
Vinatech Group was consulted to install medium duty racks for Hanacans company's warehouse in Ba Ria – Vung Tau after surveying, measuring the warehouse area, and discussing specifically the company's requirements.
Medium duty racks typically have a load capacity of 440 – 1100 pounds per floor and are less than 6.5 feet tall. This shelf model is appropriate for small and medium-sized warehouses with light-weight items, and it is economical in both cost and use. 
With a warehouse area of more than 3230 ft2 and not too heavy storage goods, the medium duty rack is the best choice for Hanacans' warehouse to help optimize storage space and investment budget.
Customers have stated that Vinatech's medium duty racks meet the quality standards (thickness, weight, parameters, dimensions) and modern designs specified in the contract.
Furthermore, Vinatech consistently exceeds installation deadlines and completes the warehouse for Hanacans. The installation team is meticulous and professional, working with a strong sense of responsibility and enthusiastically guiding how to use the rack to ensure the longest possible use value.
Vinatech Group confirms its outstanding racking production capacity to meet all customer requirements through many large racking projects nationwide, in addition to racking installation projects in Vung Tau.
Some Images of Vinatech Group Installing Medium Duty Racks for Hanacans Company in Vung Tau
Let's take a look at the entire project of installing medium duty racks for Hanacans company warehouse in Vung Tau as taken by the technicians below: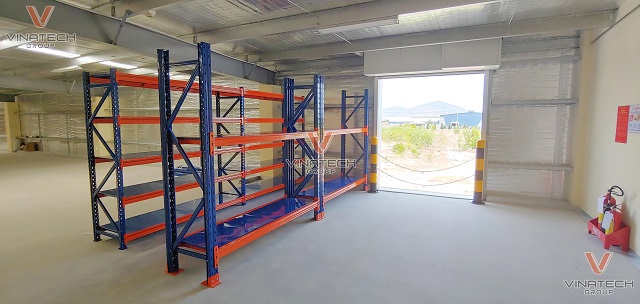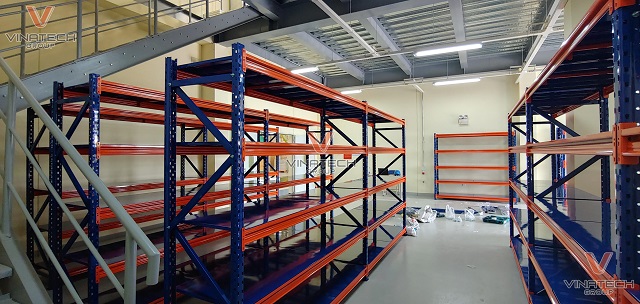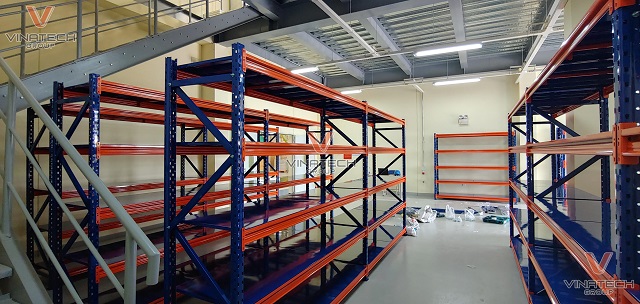 Vinatech Offers the Best Medium Duty Rack at the Best Price
– Currently, Vinatech has two shelves and racks manufacturing factories in Hanoi and Ho Chi Minh City, where it has invested in automatic production lines and electrostatic spraying technology, which not only ensures the product's aesthetics but also makes the product beautiful and increases rack life.
– Vinatech always adheres to production standards for racking to ensure the best quality, effectiveness, and safety in warehouses.
– Vinatech medium duty racks have a high load capacity and durability because they are made of high-quality raw materials imported from Hoa Phat iron and steel, have a solid structure, and a high bearing capacity. Sprayed with a long-lasting, wear-resistant electrostatic paint.
– Because Vinatech Group manufactures and installs racks directly, customers will be able to purchase original racks from the factory without paying intermediary fees. Committed to offering the market's most competitive prices.
Please contact Vinatech Hotline 086.758.9999 for advice and selection of racks, medium duty racks; we will advise and answer all customer requirements as soon as possible.