Vinatech Group is a unit in Vietnam that specializes in the production, distribution, and installation of high-quality and prestigious racks. We recently completed the design and installation of a logistics racking system in Tan Thuan, District 7, Ho Chi Minh City. The racks are designed with the appropriate size based on the warehouse's characteristics, assisting in the optimization of the storage area.
Information About the Project of Installing Logistics Racking in Ho Chi Minh City
– Location: Tan Thuan Export Processing Warehouse, District 7, HCMC
– Category: Heavy Duty Rack in Ho Chi Minh City
– Total warehouse area: 32, 291 ft2
– Type of rack used: Selective rack. The array of racks installed includes 4 tiers of trays and 3 tiers of pallets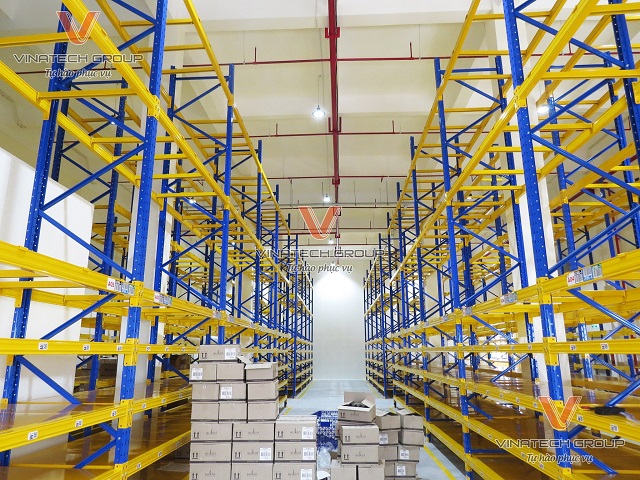 Vinatech Group Provides Consulting and Installation of a Selective Racking System for Logistics Warehouses in District 7, HCMC
Logistics warehouses frequently store a wide range of goods in varying sizes and designs. As a result, the investor wishes to install a suitable racking system to store numerous items in order to make the warehouse space neater, more convenient  when importing and exporting goods.
The warehouse covers an area of up to 32, 291 ft2. Vinatech Group advised installing Selective Racking for the warehouse after surveying the actual warehouse space and discussing with the investor the requirements for a warehouse racking system suitable to the characteristics of stored goods. This rack model is ideal for logistics warehouses because:
– Suitable for a wide range of goods, pallets, and loads
– Compatible with the majority of forklifts on the market.
– Meeting the demand for continuous goods import and export
– Handling inventory efficiently and saving time
Video of installing logistics warehouse racks at Tan Thuan export processing warehouse, District 7, HCMC
Let's take a look at the entire logistics warehouse space in Ho Chi Minh City that Vinatech Group has set up with a warehouse racking system:
Why Do Businesses Prefer Vinatech Warehouse Racks?
– Vinatech racking system is a brand with over ten years of experience in the direct production and distribution of racks, supermarket shelves, and so on. We are constantly developing and applying cutting-edge technology to create high-quality, long-lasting products:
+ Racks made of cold rolled steel grade 1 SPCC JIS G3141 standard.
+ The surface treated with automatic electrostatic paint is rust, abrasion, and color fast.
+ Each component and detail of the rack is meticulously manufactured to ensure technical compliance.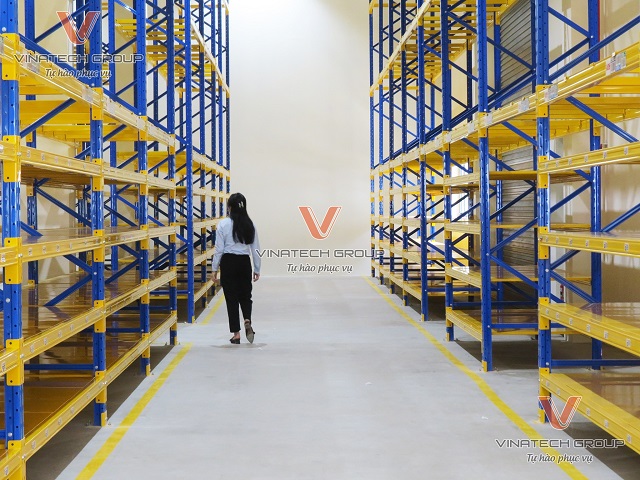 – Vinatech Group owns large-scale factories in two South-North regions, a team of experts, experienced technicians, high working efficiency, confidence in meeting all customer requirements, and the ability to complete large and small projects quickly.
– With a network of branches and agents covering all three regions (North, Central, and South), you can come and see the products in person. At the same time, transportation and installation are supported more quickly.
If you have any questions about racks, please contact Vinatech Group at 086.758.9999 for more information. We are always available to offer free, enthusiastic advice and to provide customers with the best racking installation solution.