Vinatech recently completed the racking installation at Binh Minh Industrial Park, Binh Minh town, Vinh Long province, for the warehouse of Ngoc Yen company, following a series of large projects in the industrial park. Vinatech has a long history of providing positive feedback and customer satisfaction in the rack manufacturing industry.
Information About Racking Installation at Binh Minh Industrial Park, Binh Minh Town, Vinh Long Province
Investor: Ngoc Yen Company
Location: Binh Minh Industrial Park, Binh Minh town, Vinh Long province
Category: Racks in Vinh Long
Warehouse area: ~10 700 ft2
Type of rack used: Heavy duty rack
Color: Green + Orange
Ngoc Yen Company's Warehouse Situation and Requirements
Ngoc Yen Trading & Production Co., Ltd is a company that manufactures and trades plant protection drugs and fertilizers. 
The company has a factory in Le Minh Xuan Industrial Park, Binh Chanh District, Ho Chi Minh City that specializes in the production and mixing of pesticides and fertilizers. 
Furthermore, the factory specializing in bottle packaging is located in Binh Minh Industrial Park, Binh Minh town, Vinh Long province.
With the characteristics of the pesticide and fertilizer trading field, the company's warehouse must store a large amount of chemical supplies and finished products of bottled plant protection drugs. 
This type of product, in particular, must be properly stored and preserved to ensure safety and preserve the value of the finished product without degrading the ingredients. 
As a result, Ngoc Yen contacted Vinatech Group to discuss and devise a plan to install appropriate storage racks for the warehouse.
Solution
After directly surveying the warehouse space in Vinh Long province, learning about the characteristics of stored goods and the requirements of the investor, Vinatech's technical team consulted to select heavy duty rack for warehouses. .
Installing heavy duty rack is a reasonable way to ensure efficient and safe storage of goods. At the same time, inventory, import and export is also more convenient and optimizes the storage area.
Racks can withstand heavy loads (up to thousands of pounds per floor) and store large quantities of goods. Cold rolled steel grade 1 JIS G3141 standard, strong, good bearing, and high durability. Surface electrostatic spraying automatically resists rust and abrasion and is well suited for use in chemical warehouse environments.
According to the signed agreement, Vinatech Group will supply heavy duty racks to Ngoc Yen. All rack quantities, sizes, and thicknesses are manufactured precisely and in accordance with the contract.
Vinatech carried out the installation speed as planned, and the warehouse was completed on time.
Actual Image of Racking Project at Binh Minh Industrial Park, Binh Minh Town, Vinh Long Province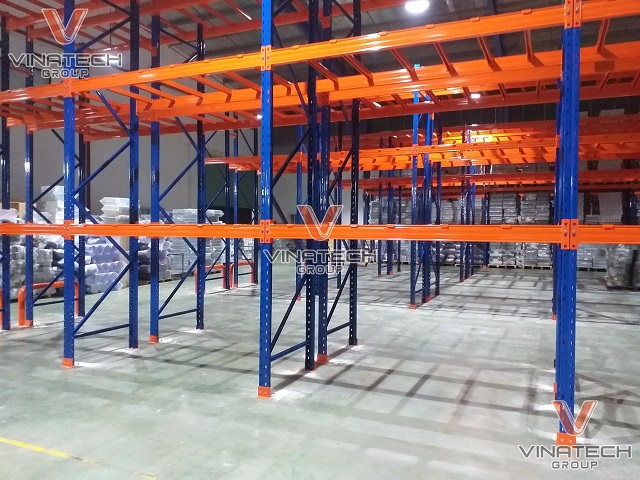 For advice on heavy duty racks  and other types of racks, please contact:
Vinatech Group Joint Stock Company
Phone: 086.758.9999 
Email: info@vinatechgroup.vn
Website: https://vinatechgroup.vn/