Following the series of large racking projects, Vinatech Group has recently implemented and completed the racking system at Sakura Company in Binh Duong. Below are the information and pictures after installation for your reference.
Vinatech Group recently implemented and finished the project of erecting racks in Binh Duong for Sakura Color Products Vietnam, which followed a string of significant racking projects. For your reference, the details and installation photos are provided below.
Information about the Project of Installing Racks for Sakura Company at VSip II Industrial Park, Tan Uyen Town, Binh Duong Province
– Investor: Sakura Color Products Vietnam Co., Ltd
– Location: VSIP II Industrial Park, Binh Duong, Tan Uyen town, Binh Duong province
– Category: Racks in Binh Duong
– Area:
– Type of rack used: Selective rack
Requirements of the Investor About the Racking System for the Warehouse
Sakura Color Products Vietnam Company is known for its business line of producing colored pencils, crayons and writing pens. In order to increase production capacity and best meet the needs of the market, the company has invested in building a factory in Binh Duong.
Owning a large warehouse with a variety of goods, production materials to store, and diverse item sizes, Sakura company decided to invest in a system of racks to store goods in the warehouse to optimize storage area, protect goods and save time in product inventory.
Talking with Vinatech Group, Sakura company wishes to install a racking system with a large load, having direct access to goods, meeting the demand for continuous import and export.
Vinatech Group Consults Solutions for Sakura Color Products Vietnam
Vinatech Group has developed a plan to install a Selective racking system for the warehouse after physically inspecting the space and exchanging information about storage items, usage requirements, and client preferences. 
This kind of rack satisfies the demands of continuous import and export by being appropriate for a wide range of commodities and forklifts. Due to its adaptability and simplicity of disassembly, this popular rack line is frequently picked by numerous businesses. 
Numerous different sorts of commodities can be stored using a selective racking system. Wide aisles facilitate quick import and export of goods as well as forklift access to merchandise.
Vinatech earned praise for the caliber of its products and services after installing the racks and delivering them to the investor.
Overview of the VSIP II Binh Duong Industrial Park's Plans to Install Selective Racks
Check out the racks Vinatech Group created and installed for Sakura Color Products Vietnam's Binh Duong facility in the video down below!
Reasons Why Many Businesses Choose Vinatech Group to Construct and Install Racking
Vinatech Group consistently ranks among the most recognized companies that specialize in designing, producing, and installing racking and supermarket shelves. 
Vinatech conducts tens of thousands of heavy duty racking projects each year for the warehouses of numerous companies located throughout the three regions of the North, Central, and South. 
We constantly provide comprehensive warehouse solutions, maximizing storage space and constructing clean, roomy facilities.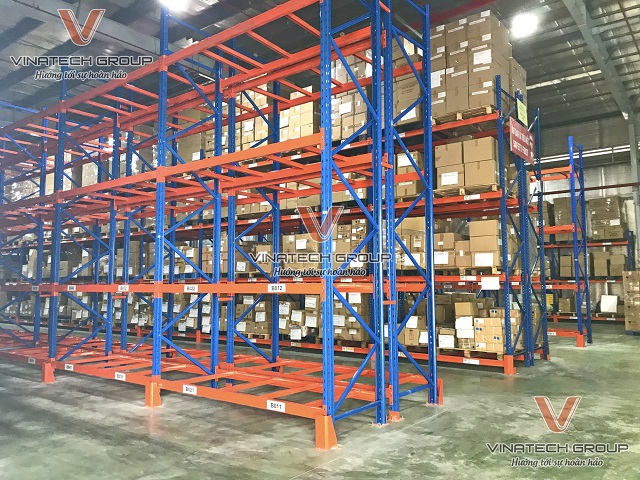 Additionally, you will receive the following when installing Vinatech racks:
– Possessing high-quality goods: Vinatech racks are made using cutting-edge equipment imported from Europe, cold-rolled steel materials of grade 1 that adhere to SPCC JIS G3141 standards, and steel that has been surface-treated. Automatic powder coating with high color fastness, anti-rust, and abrasion resistance.
– Create items on demand: In addition to creating products in normal sizes, we also create things in non-standard sizes and spray-paint colors at the investor's request.
– Delivery and installation: Vinatech Group has offices in the North, Central, and South, as well as a large agent network that spans many provinces and cities across the country. A large and qualified team of specialists also works to ensure that job security installation and delivery are completed as quickly as possible.
– Owning things at original factory prices: Vinatech Group directly manufactures and distributes products, cutting out middlemen, allowing clients to purchase shelves for the lowest possible investment expenses.
– A clear warranty. 24/7 consulting assistance, a guarantee, and onsite maintenance.
Contact Vinatech today at 086.758.999 for expert assistance in designing and installing racking systems. We will confidently assist you in creating a modern warehouse space, optimizing storage space and investment costs.