Con Cung is a well-known mother and baby store chain in Vietnam, and it has been a long-term customer of Vinatech Group. Vinatech installed supermarket shelves for Con Cung. We assisted Con Cung in the supply and installation of high-quality supermarket shelves, resulting in the most beautiful and modern display space for Con Cung's goods.
Information About Con Cung Supermarket Project in Bac Giang
Investor: Mother and baby supermarket chain Con Cung
Location: Bac Giang
Category: Supermarket shelves in Bac Giang
Area: ~860 ft2
Type of shelves used: Supermarket shelves, basket shelves, hangers
Situation and Solutions Vinatech Recommends a Mother and Baby Store in Bac Giang
In this project, in addition to the two main lines of corrugated iron and corrugated iron supermarket shelves, some shelves are specifically designed for Mother and Baby products such as: Display shelf for milk and diapers; Hanging shelf for newborn clothes; Glass shelves for displaying cosmetics, and so on.
Vinatech Group designed and installed all of the above shelves specifically for the Con Cung store. We are pleased to join the Mom and Baby – Con Cung store chain in expanding the number of sales locations across the country.
Regarding shelf quality, Vinatech Group agrees to adhere to the agreement on shelf thickness and material. Color and size are designed to the customer's specifications.
Actual Project Photographs 
Here are some stunning images of the space and installation location of the shelves captured by Vinatech Group's technical team at the Con Cung store in Bac Giang: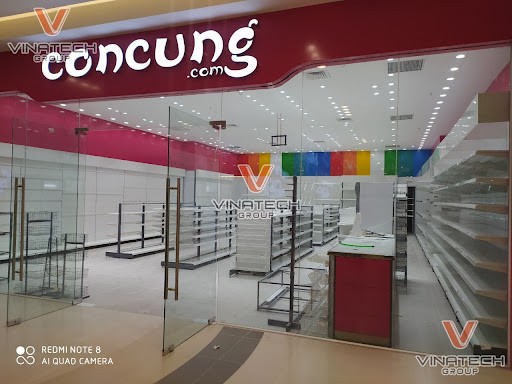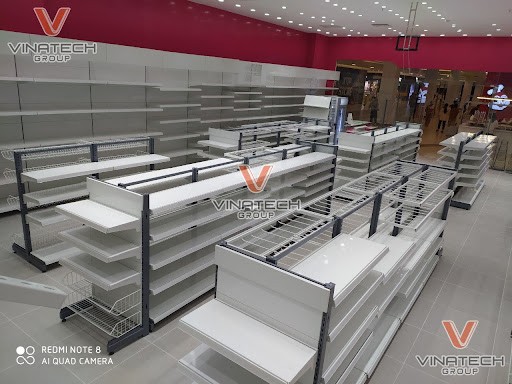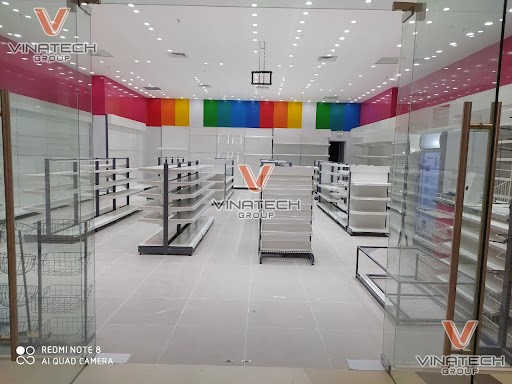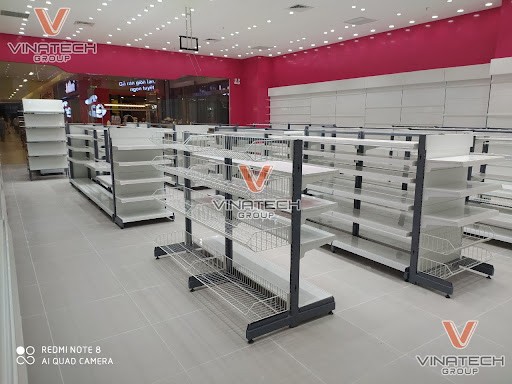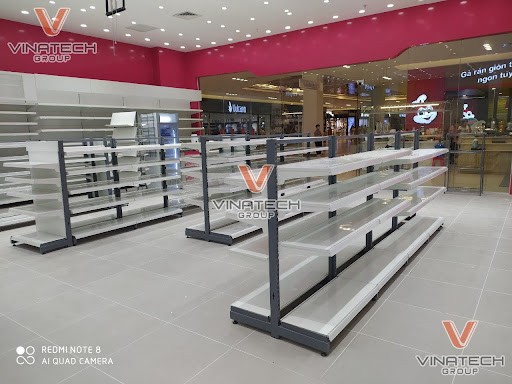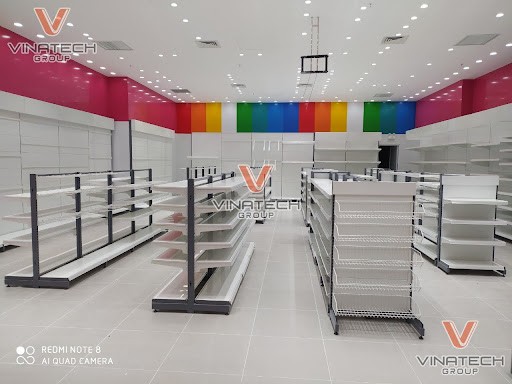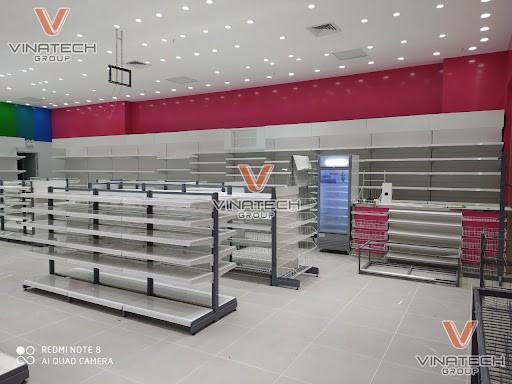 Outstanding Advantages of the Project Vinatech Installed
Supermarket Shelves 
For Con Cung
Vinatech supermarket shelves installed for Con Cung Vinatech Group is well-known as the number one manufacturer of quality supermarket shelves in Vietnam, producing shelf products that meet European quality standards.
Shelves have standard heights and widths to help display a variety of goods.
The floor tray is designed to be wider and can be resized up and down to meet the needs of the user. This is extremely useful for store owners who need to display specific products.
The shelves' details are meticulously designed and manufactured, resulting in a sturdy shelf when in use.
The input materials are clear, coming from reputable brands like Hoa Phat iron and steel. Jotun powder coating helps to increase the service life many times over other supermarket shelves on the market.
The manufacturing process adheres to ISO 9001: 2015 quality standards. Modern machinery and equipment adhere to European standards.
Vinatech Group shelf brand is trusted by Vietnamese retailers, including Con Cung chain stores and many other convenience stores, mini supermarkets, and other large supermarkets such as Big C, Lotte, Lan Chi,…
Vinatech Group currently has a large system of two factories in the North and South to meet all order sizes and project progress.
Please contact Hotline 086.758.9999 for the quickest advice on installing supermarket shelves; Vinatech Group is proud to serve customers nationwide.