The project of supplying supermarket shelf for Big C Supermarket – An Lac, Ho Chi Minh City  has hit the mark of high reputation Corporation in supermarket shelf industry in Vietnam. In addition, Vinatech Group has demonstrated ability and gain the precious prestige by satisfying almost of requirements on product quality as well as delivery time for many enterprise in the retail industry.
Project Details – Big C An Lac Supermarket 
Project Details – Big C An Lac Supermarket
Client: Big C An Lac Supermarket
Installation Area: 2.000 m2
Commodity: Supermarket Shelf
Installation place: In Supermarket
Installation Place: 1231, 1A Highway, Quarter 5th, Binh Tri Dong Ward, Binh Tan District, Ho Chi Minh City.
Big C An Lac with the overall area up to 10,000m2, located in Tan Binh District, Ho Chi Minh which was the modern shopping & entertainment center could bring to the customers the most luxurious and convenient shopping experience.
The projects of supplying the supermarket shelf for Big C An Lac is one of the major projects that affirms the reputation of Vinatech Group in Vietnam's shelf market.
In connection with the contract between Vinatech Group and  Big C An Lac supermarket, Vinatech Group is responsible for manufacturing and providing the entire supermarket shelf to display the products and essential consumer goods with area up to 2,000m2.
Vinatech Group has affirmed their leading position in manufacturing and supplying the shelf products in Vietnam by satisfying  all terms and conditions of Contract, including: time of delivery as well as the quality of products meets the standards in feature of thickness, bearing strength and durability. Model, color, product size are in compliance with Conditions which was confirmed in the contract.
In particular, Vinatech Group was highly appreciated for the quick delivery and prompt installation to meet all urgent requirements to catch up the opening day as planned.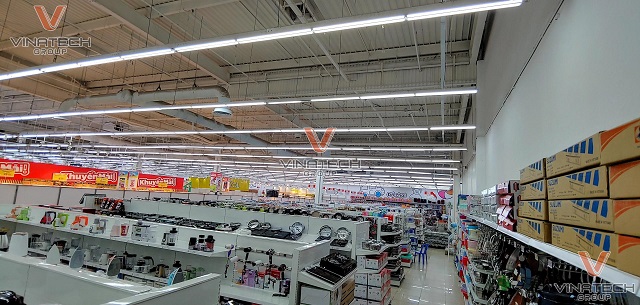 Vinatech Group affirmed its leading position of capacity in Vietnam shelf industry
Not only BigC An Lac supermarket, but also variety of huge projects that Vinatech Group has cooperated in the retail industry such as Lotte Cau Giay Center, Big C Buon Ma Thuot Supermarket, Vinmart + store chains, Co.op Food store, Citimart, …
It is no coincidence that Vinatech Group was selected as the tender to supply many shelf projects from the "big boss" in the retail industry. All of which are highly appreciated from the production capacity, quality and competitive price. All partners which has established the long-term cooperation with Vinatech Group will save the maximum investment cost (30-50%) efficiently compared to other suppliers..
Vinatech Group has full capacity to establish the long-term cooperation with many big Enterprise in the retail industry. Not only owning the most modern production plants in Hanoi and Ho Chi Minh, but also takes the initiative in providing impeccable service to maximize the benefit of customers.
With a clear message that Vinatech Group always make an effort to support the clients in minimizing the initial investment costs. Especially with the Enterprise which has an ambition to extend the quantity of store up to 1,000 or more chains. With the good supplier, the Enterprise could save 30-50% of total cost for each store. This is an impressive number that could bring a major benefits to those who have opened thousands of stores.
Vinatech Group commit to satisfy our customers by the best quality of products which match with European modern design to set up the store, and supermarket in the most beautiful and professional way.
We serve all Customer throughout the country for free consultant and layout design. For further information and service, please feel free to contact Hotline: 086.758.9999 for prompt feedback.